Today marks the 50th anniversary of manned space flight and the 30th anniversary of the first Space Shuttle launch. Among other events, NASA Administrator Charles Bolden Jr. is just announcing which museums will receive each of the five retiring Space Shuttles.
The Pacific Northwest, with its abundance of aviation museums, has two strong contenders among the 21 in the competition.
The first is, of course, the Museum of Flight at Boeing Field. I don't need to say much about this, because if you have any interest in aviation, you've been there. (And if not, well…you've probably stopped reading.)
Another not-quite-so-well-known regional finalist is the Evergreen Aviation and Space Museum in McMinnville, Oregon. This is the place where Howard Hughes' Spruce Goose is housed. If you like aviation museums, Evergreen is fantastic. In recent years, the museum has expanded to two main buildings, one for aviation, one for space. They are currently building a water park with an unusual water slide. Here's a photo I recently took on a dreary March afternoon…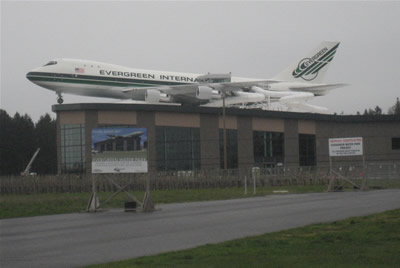 Bolden choked up a few times during his introductory speech. Here is the list of awardees:
Bummer.