The Washington Poll released a new poll this week in the Washington state gubernatorial race. The results are pretty good news for Christine Gregoire, as it shows her leading Dino Rossi 53.7% to 42.1% with 3.5% undecided.
The only catch, as Niki Sullivan at The News Tribune points out, is:
The survey's margin of error is +/- 5.6 percent. That means any number could be off by as much as 5.6 percent in either direction.

And that means that Gregoire's lead could be anywhere from nearly zero to more than 20 points.
Well…sort-of, Niki.
A poll's margin of error specifies a range that should include the true value (i.e. true percentage of the population who say they would vote each way when the poll was taken) with a 95% probability. For this poll, the interval of Gregoire voters defined by the margin of error is 48.1% to 59.3%. But the true value could fall outside this interval—anywhere from 0% to 100%. That the true percentage is outside the interval is only less probable, not impossible.
But even within the range 48.1% to 59.3%, all outcomes are not equally likely. The most likely true value supported by the data is 53.7%, and values near the tails (like 48.1% and 59.3%) are much less likely.
Polls have a margin of error because a small number of individuals are "sampled" in a poll. The same principle applies to flipping a coin. If you toss an honest coin 10 times, you expect 5 heads and 5 tails (i.e. a probability of 50% which is the true underlying probability for an honest coin). Typically, you will not get exactly 5 heads. If you repeat this 5-flip experiment, say, a hundred thousand times, and plot the results, the most likely outcome—five heads—only occurs about one quarter of the time. Occasionally, you would even get 10 heads in a row (about 0.1% of the time).
On the other hand, if you flip an honest coin a million times, the results will be very close to half heads and half tails.
Back to politics. Given that the Washington Poll sampled 300 individuals and found a 53.7% to 42.1% split, we can do a reverse engineered version of the coin flip experiment. We can simulate elections over and over again with 300 individuals who, for every election, each have a 53.7% probability of voting for Gregoire, a 42.1% chance of voting for Rossi and a 3.5% chance of being undecided (i.e. not voting). We can then plot the resulting number of votes for Gregoire in all of the elections.
Here is the result of this exercise in which we simulate 100,000 elections, each with 300 voters: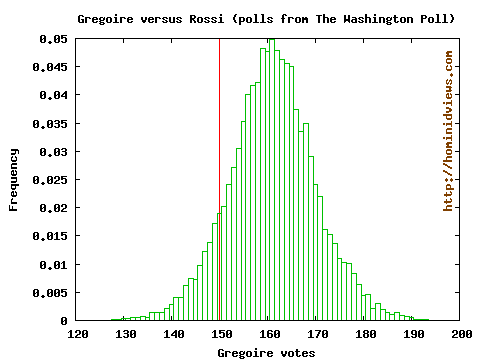 Vote totals to the right of the red line are wins for Gregoire and those to the left are wins for Rossi. Clearly, the vast majority of the wins are for Gregoire. In fact, she won 96,581 of the elections and Rossi won 3,032 of them. In other words, if the election were held today, we would expect Gregoire to have about a 97% chance of winning the election.
There was another Washington Poll for this race taken late last October that showed Gregoire leading Rossi 46.8% to 42.4%. That poll sampled 601 individuals. Repeating the simulation exercise shows that Gregoire had an 88.7% probability of beating Rossi based on results from that poll. So, we could say that Gregoire's support has probably improved from the previous poll to the current poll.
The story might end there, except that the newest Washington Poll actually resampled 300 individuals from the 601 participants from October, rather than drawing a new sample. This highly unusual political poll design provides for stronger hints about the trend in support for each Candidate than does two polls of randomly sampled voters. A proper analysis would require access to the raw data, but the increased spread sure looks promising for Gregoire.