Rasmussen released a new poll for the Washington senatorial race yesterday. The poll, taken on 26 May on a sample of 500 likely Washington state voters, has Sen. Patty Murray leading real estate salesman and perennial candidate Dino Rossi by 48% to 47%. The margin of error for the poll is ±4.5%.
The poll was taken on the day of Rossi's long-anticipated formal announcement of his candidacy. Of course, Rossi still has to make it through Washington's top two primary. Given the crowded Republican field, there is some chance Rossi will not make it. The other general election match-ups have Murray up by even larger margins: 50% to 35% over Don Benton, 47% to 37% over Clint Didier, and 47% to 32% over Paul Akers.
A Monte Carlo analysis of the Murray-Rossi results, based on a million simulated elections at the same sample size and observed percentages, gives Murray 557,078 wins and Rossi 430,204 wins. The results suggest that, if the election was held today, Murray would have a 56.4% chance of beating Rossi. The distribution of election results looks like this: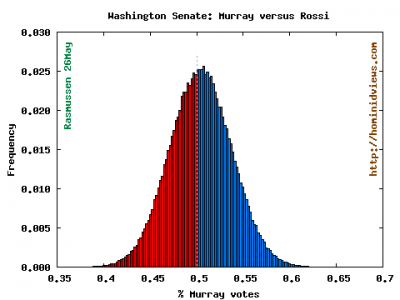 The Rasmussen results are closer than those found in a recent Washington Poll that had Rossi leading by 4% in a sample of 1,252 registered voters. My analysis of that poll gave Murray an 86.5% probability of being the winner. In addition to the Washington Poll, there was another Rasmussen poll taken on 04 May that had Murray leading Rossi by 2%.
A joint analysis of the three polls taken in May—yes, I am not including the recent Elway Poll because it was started in April—gives Murray a hefty advantage. From a total of 2,252 voters surveyed Murray gets 45.8% and Rossi takes 42.9%. Normalized to just the 1,997 who went for Murray or Rossi, Murray gets 51.6% to Rossi's 48.4%. The Monte Carlo analysis gives Murray 844,678 wins to Rossi's 151,587 wins. In other words, the evidence from the May polls suggests that an election held this month would have an 84.8% probability of Murray winning. Here is the distribution for the pooled polls: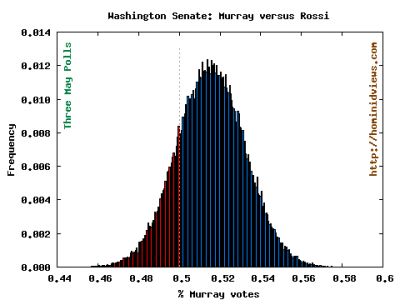 Here is a summary of the normalized polls for this contest over the entire year: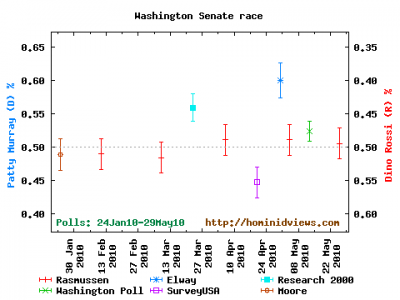 If Rossi had entered this race in mid-March, he could have claimed the advantage of the lead in all the early polling. At the end of May, however, Murray has now led in the most recent four polls and six of the past seven polls, suggesting that Rossi's late entry into the race comes with a solid disadvantage.