Rasmussen has just released their July poll for the Washington state gubernatorial race. The poll of 500 people shows Governor Christine Gregoire (D) leading Dino Rossi (GOP-Party) 49% to 43%.
(Oddly enough, I was one of the 500 randomly selected Washington state voters who was called and chose to participate in this poll.)
The +6% spread in this poll shows the race tightening slightly from the +9% found in the late June Elway poll, but better than the +3.5% found in an early June SurveyUSA poll, and on par with the +7% found in last month's (early June) Rasmussen poll.
As usual, I use a Monte Carlo analysis to estimate the probability that Gregoire would win if the election were held now. I simulated a million gubernatorial elections of 500 voters each, where each person had a 49% chance of voting for Gregoire, a 43% chance of voting for Rossi and a 8% chance of voting for neither.
Gregoire won 900,804 of the simulated elections and Rossi won 90,599 times. This suggests that Gregoire has something like a 90.9% chance of beating Rossi (if the election were held now) and Rossi has a 9.1% probability of winning. A statistician would point out that Gregoire's lead in this poll is within the margin of error (i.e. her probability of winning is less than 95%).
Here is a plot showing the distribution of votes in the million elections: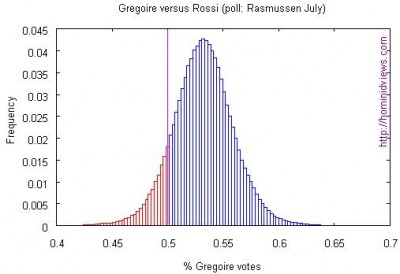 Blue bars are wins for Gregoire and red bars are Rossi wins.
This current poll makes this the ninth consecutive poll in which Gregoire has led Rossi. It is highly unlikely that Gregoire's lead is due to chance (sampling error).
Rasmussen also polled a head-to-head match-up between Sen. Barack Obama and Sen. John McCain. Obama lead McCain 48% to 39%. Tomorrow I'll provide my usual Monte Carlo analysis of the presidential election that incorporates the new Rasmussen poll.