A new poll in the Washington state gubernatorial race was released yesterday. The SurveyUSA poll conducted from June 7th through the 9th asked 637 likely voters who they would vote for in an election held now. Governor Christine Gregoire received 50.4% of the "votes", Dino Rossi received 46.9%, "other" received 1.4%, and only 1.3% were undecided.
The +3.5% lead for Gregoire is substantially narrower than her +11% lead in a May 12 Rasmussen poll. But the current result falls squarely in line with all other recent polls: a late-April Elway poll that gave Gregoire a +5% lead, a mid-April SurveyUSA poll that gave Gregoire a +4% lead, and a Rassmussen poll in late March that gave Gregoire a +1% lead.
The current SurveyUSA poll results are within the 4.0% margin of error, which means that, given a sample of only 637 likely voters, the probability that Gregoire's lead is "real" (in an election held now) is something under 95%. This is commonly called a "statistical tie," but we can do better than that. We can estimate the probability that Gregoire would beat Rossi (and vice versa) in an election held now.
I simulated a million gubernatorial elections of 637 voters each election. Each voter in each election had a 50.4% chance of voting for Gregoire, a 46.9% chance of voting for Rossi, and a 3.5% chance of voting for neither.
Gregoire won 824,097 of the elections, and Rossi took 9,687. In other words, the poll results suggest that, for an election held now, Gregoire would have an 83.2% probability of winning the election and Rossi would have a 16.8% chance of winning the election.
Here is the distribution of number of votes (converted into percentages) from the million elections (Rossi victories are those to the left of the red "tie" line, Gregoire victories are those to the right):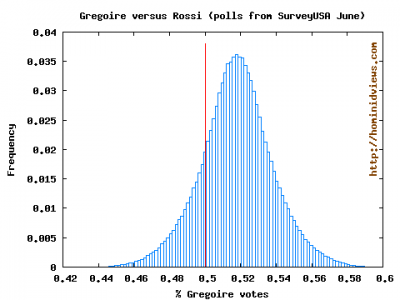 The good news for Rossi is that this poll places him back in the running, unlike the previous Rasmussen result. Rossi may have been "unlucky" during that poll—that is, just by chance, perhaps too many Gregoire supporters were polled. Alternatively, Gregoire may have experienced a large surge in support last month.
The bad news for Rossi is that Gregoire has held the lead for six polls in a row now, and has led in seven out of the eight polls taken this year. (The last time Rossi led was in a March 5th Rasmussen poll, in which he held a slim +1% advantage.)
With poll after poll showing Gregoire up, it becomes very difficult to attribute her leads to chance. In other words, the consistency across polls suggest that Gregoire really does hold a solid lead over Rossi—at least at this point in the election season.