With just a few days to go until the election, Governor Christine Gregoire (D) holds onto her slight lead over challenger Dino Rossi ("G.O.P. Party"). This election is the rematch of the famous 2004 election that resulted in two ballot recounts and ended up in a six month legal challenge.
A new Washington Poll, a non-partisan, academic survey from the Washington Institute for the Study of Ethnicity and Race, finds Gregoire leading Rossi by 50% to 48%. The survey was conducted from 27-Oct to 31-Oct on a sample of 387 registered Washington voters; the margin of error is ±5.0%.
This poll yields results identical to the previous two poll, the first by SurveyUSA taken from 26-Oct to 27-Oct, that was 50% to 48% in Gregoire's favor. And before that a Strategic Vision poll taken from 25-Oct to 26-Oct, had Gregoire up 49% to 47%—again a +2% edge over Rossi. One must go back ten polls to find Rossi in the lead—that's all the way back to mid-September: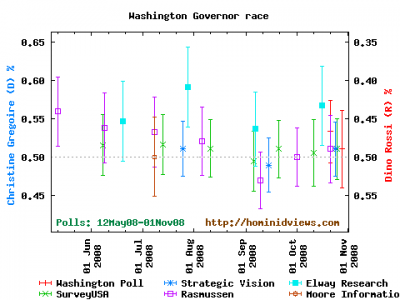 A combined analysis of the last three consecutive polls—which spans the range 25-Oct to 31-Oct—gives Gregoire 50.8% of the "votes" and Rossi, 49.2% of the "votes." If the election had been held today, Gregoire would have had a 68.4% probability of winning.
Here is the distribution of votes generated by the analysis (i.e. this is the distribution of possible election outcomes in terms of the percentage of votes for each candidate):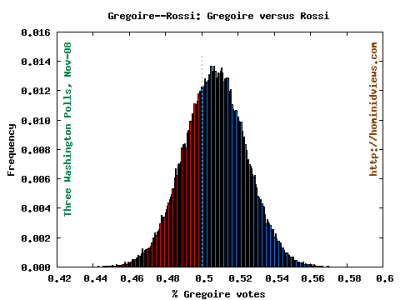 The poll also finds Sen. Barack Obama leading Sen. John McCain in Washington state 51% to 39%. The +12% margin is narrower than the +17% (56% to 39%) Obama lead found in the SurveyUSA poll, but it matches the +12% (54% to 42%) lead over McCain found in the Strategic Vision poll.
(Cross posted at Hominid Views)