This morning the Washington Poll released an expanded sample of their recent poll of Washington state voters. Their press release explains:
Last week (May 24) we released the results of an n=1252 survey, yet we continued to conduct additional surveys through Friday May 28th, and amassed a total of 1,695 interviews.
While there are some interesting results in this new release, particularly regarding the Teabagger element of the GOP Party, I'll simply focus on the match-up between Senator Patty Murray (D) and perennial candidate Dino Rossi (R). I recently analyzed this poll with the original sample of 1,252 registered voters that went for Murray over Rossi 44% to 40%. The results suggested that Patty Murray was leading with an 86.5% probability.
The new results still have 44% Murray and 40% Rossi but now, with the larger sample, the uncertainty in the result goes down. In a Monte Carlo analysis Murray won 897,105 of 1,000,000 elections, suggesting that an election held now would be won by Murray with an 89.7% probability. Here is the distribution of outcomes: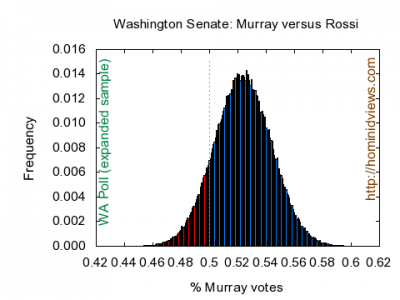 A few days ago I did an analysis of the three polls in this race that were taken in May. The analysis gave Murray an 84.8% probability of truly leading the race. Doing that same analysis with the expanded Washington Poll ups Murray's probability to 88.7%.
So, based on the available evidence, Dino Rossi is still losing to Patty Murray, but we can say this with a little more certainty.
(Cross posted at Hominid Views.)