Today was not a good day for R-71 supporters. With the 5th batch of data, the total of signatures examined is now 27,288 (almost 20% complete), with 3,695 invalid signatures found.
The number of duplicates has risen to 90. (Consider that there were only 7 found by the end of the first day, and you can see how the duplicate count snowballs as the sample grows.) Ninety duplicates in a sample of 27,288 reflects a duplicate rate of 1.67% in the total sample.
Using the methods described here, a good estimate of the number of valid signatures is 118,184, a shortfall of 2,393 signatures of the 120,577 needed to qualify the referendum for the ballot. The total rejection rate should be about 14.2%.
Here is the trend since the start of signature verification: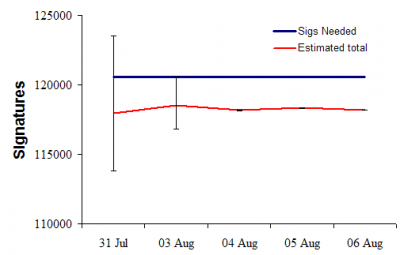 This graph shows the daily estimates of valid signatures (red) and the number needed to qualify (blue). What is most salient here is that the estimate of valid signatures is extremely stable from day-to-day. If the trend continues, R-71 fails.
Starting today, signatures will be checked in two shifts, with an update in the morning and the afternoon.