I posted the results earlier today of the Washington Senate race based on KPLU's news reports. At noon today, the KCTS/KPLU/Washington Poll top lines were released for public consumption.
In that all-important race between the single most powerful mom-in-tennis-shoe in the Senate & nation, Sen. Patty Murray (D-WA), and the single most sought-after motivational speaker on the foreclosure profiteering seminar circuit, Dino Rossi (R), we find Sen. Murray leading 50% to 42%. This makes five polls in a row that has Murray in the lead.
This poll surveyed 500 people from October 5th to the 14th. Hence, it overlaps every one of the other five October polls. Here is summary of all the polls this month:
| | Start | End | Samp. | | % | % | % |
| --- | --- | --- | --- | --- | --- | --- | --- |
| Poll | date | date | size | MOE | Murray | Rossi | Diff |
| WA Poll | 05-Oct | 14-Oct | 500 | 4.3 | 50 | 42 | D+8 |
| SurveyUSA | 11-Oct | 14-Oct | 606 | 4.1 | 50 | 47 | D+3 |
| CNN/Time/OR | 08-Oct | 12-Oct | 850 | 3.5 | 51 | 43 | D+8 |
| Elway | 07-Oct | 11-Oct | 450 | 4.6 | 51 | 38 | D+13 |
| Fox | 09-Oct | 09-Oct | 1000 | 3.0 | 47 | 46 | D+1 |
| Rasmussen | 06-Oct | 06-Oct | 750 | 4.0 | 46 | 49 | R+3 |
What does this poll tell us by itself? A Monte Carlo analysis using the observed sample size and percentages gives Murray 902,830 wins to Rossi's 92,001 out of a million simulated elections. That is, the poll provides evidence that Murray would have a 90.8% probability of beating Rossi in an election held now.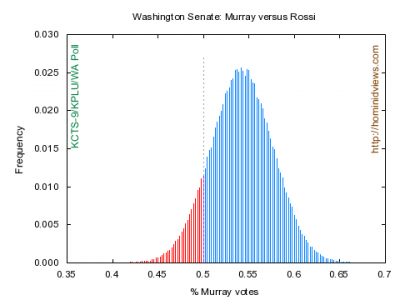 But we can pool the results from all six of the polls shown in the table. This gives us a total of 4,156 "votes", of which 3,890 of them go to either Rossi or Murray. Murray gets 48.9% to Rossi's 44.7% (or, if we look at just the votes for Murray and Rossi, Murray is up 52.2% to 47.8%). A simulation analysis finds Murray beating Rossi with 975,049 wins to his 24,332 wins.
The new KCTS/KPLU/Washington Poll has added a bit more certainty to Murray's lead. Yesterday, this same analysis using all but today's poll gave Murray a 94.5% chance of winning. Today, with six polls, we find that Murray would have a 97.6% chance of beating Rossi in an election right now.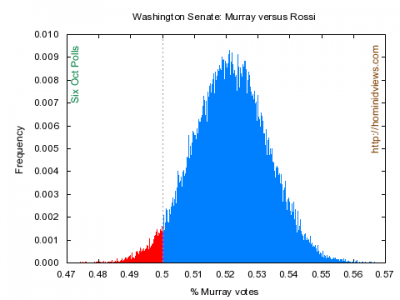 Finally, let me address a meme about this race that has been quite prevalent in the recent media. There is an idea the the polls are "all over the place." Maybe. But not really. Let's look at results of polls taken in September and October: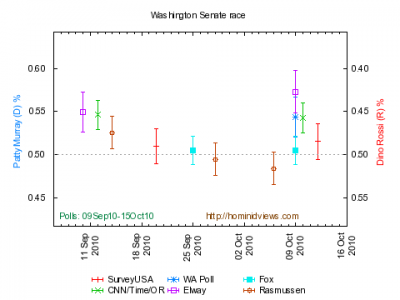 Since these polls are taken on a sample of the underlying voting population, there is some uncertainty about the results. The vertical bars on the poll results show the plausible range that the voting population could have, given the margin of error inherent in the poll. (Other problems can lead to biased estimates; the margin of error only incorporates uncertainty reflecting the size of the sample.) And even then, by chance, we expect the true value to lie outside of the plausible range in about one in twenty polls.
Looking at the recent polls, it seems the last five polls mostly overlap, suggesting that the truth lies somewhere near a 54% Murray, 46% Rossi result. We also see this in early September. From mid-September to early October, Murray appears to do significantly worse.
Remember the discussion with the Elway poll last Tuesday? Elway was compelled to justify his noticeably higher numbers for Murray, and suggested that there was a difference between robopolls and live-interview polls. (Of course, if we consider the plausible range, the Elway poll fits right in.) The polls released since Tuesday support Elway's suggestion.
Elway did not offer a hypothesis why robopolls would turn in different results than the live-interview polls, but I did. Via Goldy:
As Darryl suggested the other night at Drinking Liberally, what if the enthusiasm gap we've all been hearing about is largely manifested in who is or is not willing to give up ten minutes to interact with an automated poll? I know I've hung up on a couple robo-polls this year, but find it harder to do so with a real live person. Interesting hypothesis.
This looks right for all the recent polling. We see that the three live-interview polls (Elway, WA poll, and CNN) all post numbers on the high side and the robopolls (SUSA, Rasmussen and FOX News) all come in on the low side. That big dip in the middle is formed from six robopolls taken in a row. In fact, Rasmussen and FAUX News both use the same company—Pulse Opinion Research–to do their polling. It may not be chance that FOX New and Rasmussen both give Murray her worse performance in this series. And this would explain the question I posed in August, "What the hell happened to Survey USA?"
The robopoll/live interview/enthusiasm gap hypothesis was offered Tuesday before the three most recent polls were released, and I am now pretty confident that this is what is happening in the Murray—Rossi race here in Washington.
I am less confident about other House and Senate races nationally, but if it can happen here, it might well be happening elsewhere. I think there is a fair possibility that robopolls will systematically underestimate the performance of Democrats nationwide, which will make for a pretty darned interesting election night!
(Cross posted at Hominid Views.)