Okay, so I've finally had a chance to wrap my mind around Mayor Ed Murray's minimum wage proposal, and found it to be both a little bit better and a tiny bit worse than it first appeared. The good news is that it would indeed get all workers to a $15 minimum wage in 2017 dollars—that's about 50 cents an hour less than the wage would have been had we bumped it up to $15 now on January 1, 2015. The bad news is that some workers won't reach this real-dollar-equivalent wage until 2025—a ten year phase-in, not the seven-year phase-in that has been touted.
Also good news is that the employee count for "big" businesses—defined as greater than 500 FTEs—refers to the number of employees nationally, not locally, and lumps franchise employees together with those at other franchises throughout a national chain. That's great news for fast food workers for example, most of whom receive no tips or benefits, and thus would be phased in under Schedule A: $11 an hour in 2015, $13 an hour in 2016, and $15 an hour in 2017, inflation indexed after that. "The people who had the courage to walk out on strike got a pretty good deal," SEIU 775 president and committee co-chair David Rolf told me by phone, referring to last year's fast food strikes.
And if everybody was getting that deal, I'd be thrilled. But they're not.
Big business employees who receive health care benefits (Schedule B) wouldn't reach an equivalent wage until 2019. Workers at "small" businesses (defined as 500 or fewer FTEs) who receive no health care benefits or tips (Schedule C) wouldn't reach an equivalent wage until 2021. And small business employees who receive tips and/or health benefits (Schedule D) would not reach that inflation-adjusted 2017-era $15 minimum wage until 2025, a full decade after the proposed ordinance first goes into effect.
The mayor's office has provided a nifty table detailing the full 10-year phase-in for all four schedules. But it's kind of misleading. The way it works is that the straight-up hourly wage to which all four schedules eventually merge is based on Schedule A's $15 an hour wage in 2017, adjusted annually for inflation. But the annual increases under Schedule A all presume a 2.4 percent annual inflation rate—substantially higher than most experts are predicting. Inflation has held steady at about 1.5 percent these past couple years, while the Federal Reserve Bank of Cleveland just two weeks ago forecast a 10-year average CPI of 1.87 percent. The proposal's 2.4 percent estimate may be closer to the historical average but it is totally divorced from our current economic reality.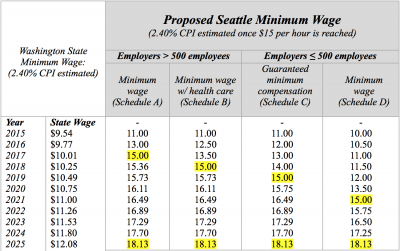 I'm not a gambling man, but I'd wager that this proposal would bring Seattle's minimum wage closer to $17 in 2025 than it would to $18.13. So don't take the numbers between the highlighted rows too seriously. They're just estimates. Overly optimistic estimates.
The important numbers are $15 in 2017 dollars (about $14.50 in 2015 dollars) and the year in which the figure in each column first matches that in Column A: 2017, 2019, 2021, and 2025 respectively. That is what is meaningful to workers in terms of their inflation-adjusted take-home pay.
As for the meaning of Schedules C and D, well, it depends on how you choose to look at it. Schedule D is the absolute minimum wage a small business may pay its workers (again, estimated from 2022 on) as the state currently defines wage. But Schedule C is the minimum total compensation a small business employee must receive, including wages, tips, and health benefits.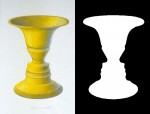 A charitable spin on minimum compensation uses Schedule D as the baseline, and views Schedule C as guaranteeing that small business workers receive total compensation a little above that guaranteed in the base minimum wage. A negative spin on minimum compensation uses Schedule C as the baseline, and views the difference between the two columns in any given year as an unwarranted deduction the employer gets to take against his minimum wage obligation. It's like that classic optical illusion: Is it a vase or is it two faces?
So that's what the mayor's compromise proposal does. Many, many workers—those who earn no benefits working at big businesses—would reach $15 an hour by 2017, and receive cost-of-living increases thereafter. The remaining workers will be phased in to an inflation adjusted equivalent minimum wage by 2019, 2021, and 2025 respectively. Once this 10-year phase in is complete there would be no tip penalty and no benefit deductions.
Tomorrow I'll consider the political ramifications, and whether they conspire to make this 10-year phase-in a good enough deal.