Yeah, yesterday's poll finding 73 percent support in Seattle for a $15 minimum wage is a union-sponsored survey producing a union-friendly result. So take that with a grain of salt. It is also a survey that was structured and released so as to support the minimum wage compromise that Mayor Ed Murray hammered out between labor and business leaders, and is now under consideration by the city council. Again, context.
But EMC Research is a reputable polling firm, and 550 likely voters is a decent sample size, so it would be silly simply to dismiss these results as biased. On the core question—do you support setting Seattle's minimum wage at $15 an hour?—voter preference is unambiguous: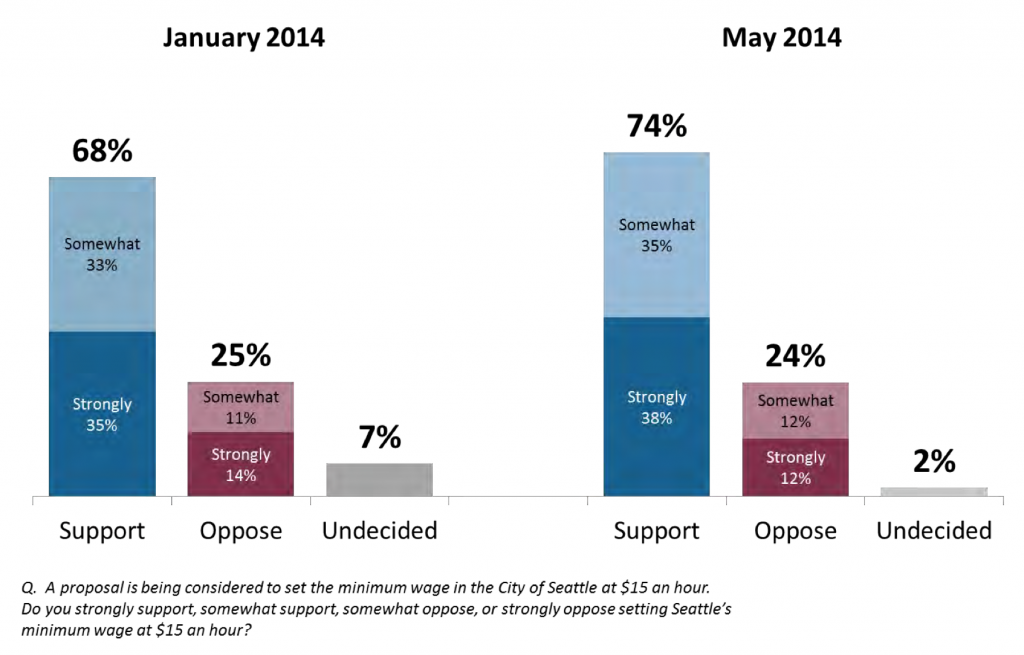 I'm not saying that millions of dollars of TV ads portraying small business owners warning they'll close up shop or move out of town won't nudge the needle. But that's an awfully heavy needle to nudge. So defeating $15 at the polls would be a dubious proposition.
Even more dubious? Persuading city council members—all of whom are up for reelection in 2015—that there won't be a price to pay for undermining this very popular proposal. Richard Conlin was ousted by a socialist after casting the lone vote against paid sick leave. I'm not sure there's anybody on the council who relishes the thought of being branded as the anti-$15 minimum wage candidate.
That said, if there's anything that I've heard from the council that unsettles me it's the chatter about exploring whether to make the tip and/or benefit deduction permanent. There is a certain logic to a tip credit that I imagine might be compelling to the Bagshaw, Burgess, Clark, Rasmussen camp. Meanwhile, Harrell is particularly being pressured by minority and immigrant business owners to soften the deal on their behalf.
But a permanent tip credit would virtually guarantee a competing $15 Now initiative with at least partial labor support, so with only 23 percent of respondents voicing support for a permanent tip credit or benefit deduction, council members who value their jobs should think long and hard before undermining Murray's grand bargain.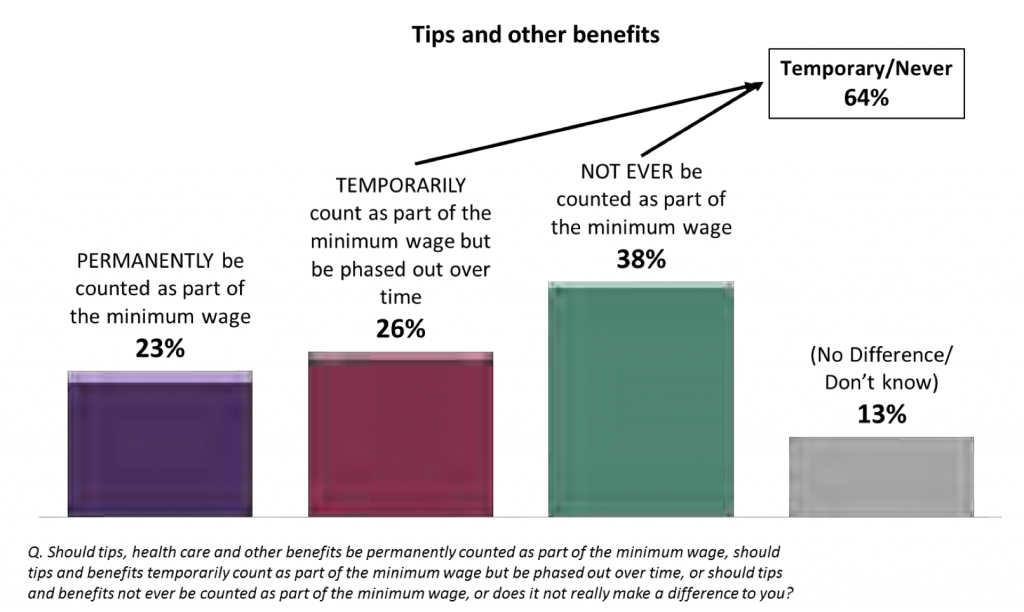 No, there's nothing definitive about this poll, and yes it was commissioned by pro-minimum wage groups. But if the business community had polling that refuted the core premise that support for a $15 minimum wage remains very strong, they would have released their polling numbers too.
Council members who value their jobs should be very wary of ignoring these results.