Primary night festivities for me began at Drinking Liberally in Seattle. But "festive" didn't really describe my mood. Rather I was feeling about 80 years old and in pain owning to a back injury I sustained Monday morning.
At 9:00, I shuffled back to my car and began the slow process of climbing in without the use of specific back muscles. I almost went straight home. But heading back to Redmond, I swung by the Darcy Burner party in Bellevue.
Perhaps it was my heightened sense of senescence, but I ended up in lengthy conversation with an older woman. She had something to get off of her chest and was eager to share it. I didn't catch her name, but I'll call her Daisy.
Daisy's issue was the Bush prescription drug plan that, she felt, had needlessly cost her money. But, more importantly, the plan had made it impossible for some of her less healthy friends to afford the medications they needed. She mentioned cost issues (resulting in maxing out on benefits) and problems that some needed medications were simply not covered by the plan.
Daisy felt strongly enough about the issue that she had talked to Dave Reichert. She reenacted her conversation with Reichert, in which he didn't seem to "get it." Rather than listening to the specifics, Reichert simply asserted that she and her friends must be better off under the plan. That's what it was supposed to do.
When she finished with her story I asked, "So that's how you became a Darcy Burner supporter?"
Daisy responded emphatically, "No…that's how I became: 'Anyone. But. Reichert.'"
Fair enough!
Thirty minutes later, I noticed that Daisy had struck up a conversation with someone else: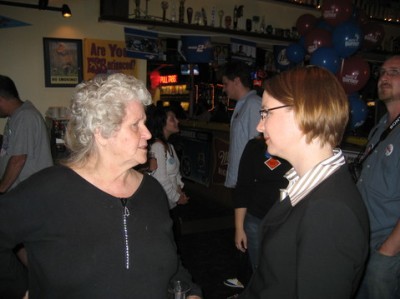 In the middle of a busy night filled with media, hugs, handshakes, and cheers, Darcy Burner took some time to listen to Daisy's story. I'm guessing that's how Daisy became a Darcy Burner supporter.
On my way out the door, I ran into Darcy and asked, "Can you share a few words with HorsesAss readers about tonight?" And she graciously obliged:
[Audio:http://horsesass.org/wp-content/uploads/darcy19aug2008.mp3]
So that, dear readers, will have to serve as our podcast—let's call it our micro-podcast—for this week.