This morning, public radio stations across the nation played a Marketplace piece about small businesses supporting the OWS family of protests.
And who did they feature in the story? Occupy Seattle and Big Mario's New York Style Pizza:
Big Mario's has made it cheap and easy to feed the protesters. As The Ave points out, even if you cannot join the crowds at Westlake Center or other occupied sites, you can still support the cause by sending food (or other essentials of life).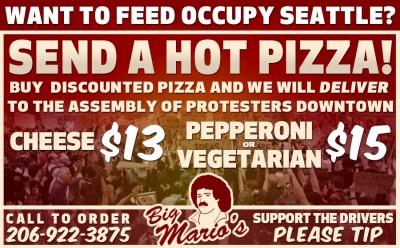 I could live the rest of my life on pizza alone, but that may not be true for all. The Ave article asks people to identify other places that support the protesters through discounts and deliver to Occupy Seattle. If you know of any, leave details in the comment thread, here or at The Ave.