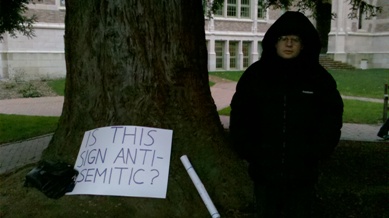 He's Back! This photo is from last Thursday.
A couple of week ago I posted a picture of this guy at the same spot on the UW quad holding a sign saying, "Don't Think". I asked if anyone had a clue as to the purpose.
Well, meet Kevin Smith. He came to the comment thread and provided a few clues, and linked to his blog, Signs On the Quad.
So, now what do you think this is all about?
(And this does qualify as an Open Thread.)