At one point during my first full day as a Republican yesterday, I was overcome by doubt. I had publicly announced my support for Mike Huckabee, but I realized that I didn't have a good reason—as a Republican—to support him.
I mean, as a Democrat I'd have every reason to support Huckabee as the Republican Nominee. All national polls show him losing to both Hillary Clinton and Barak Obama. My own analyses of state head-to-head polls suggest that Clinton and Obama would beat Huckabee.
Now that I am a Republican I really should have some positive reasons to support the Huckster. So I examined his positions on many issues and realized I disagreed with almost all of them:
I find Huckabee's positions on homosexuality antediluvian. I disagree with his opposition to civil unions, same-sex marriage, and adoption by same-sex couples. I disagree with the harebrained idea of a constitutional amendment defining "marriage" as a union between one man and one woman.
I am fundamentally opposed to Huckabee's stance on abortion. In fact, I have voted for Republicans before over this very issue. While living in Pennsylvania in 1998, I voted for Sen. Arlen Specter instead of his "pro-life" Democratic opponent Bill Lloyd.
I cannot agree with Mike's opposition to embryonic stem cell research.
I think Huckabee is a idiot for refusing to accept the findings of modern evolutionary theory (hell…even the Catholic Church has recognized for some 30 years that biological evolution is real and is not incompatible with Christianity).
I don't agree with Huckabee at all on education—charter schools, display of the Ten Commandments in public schools, or "character education" in public schools. Give me a fucking break!
Huckabee's promise to replace the income tax with a national sales tax is utterly ludicrous.
I don't agree with Huckabee's anti-gun control stance.
I oppose Huckabee's opposition to a government-mandated universal health care system. And I think his ideas for isolating AIDS patients is fucked-up!
On immigration I cannot figure out where the Huckster stands—it looks like he is all over the place.
I find the Chuck Norris thing really, really creepy.
Huckabee is a Southern Baptist minister. Even though I was baptized at age nine as an American Baptist (and later became a Lutheran), Southern Baptists frighten me. They strike me as having a high proportion of radical extremists in their midst….
Finally, I think Huckabee's ideas of changing the Constitution to be more God-friendly reveal a radical extremist side to the man that I find scary.
In fact, there are only a small number of issues that I agree with Mike on. I pondered my political paradox. And then I fretted…and I fretted some more, and I….
Then, in the midst of my fretting, it struck me!
I don't have to use rational positions, logic, consistency, or ethics at all. I'm a Republican now!
Being a Republican means never having to say you're sorry for eschewing logic, rationality, consistency or ethics in a political context. As a Republican, all I need is a positive emotional response to Huckabee—some emotional bond….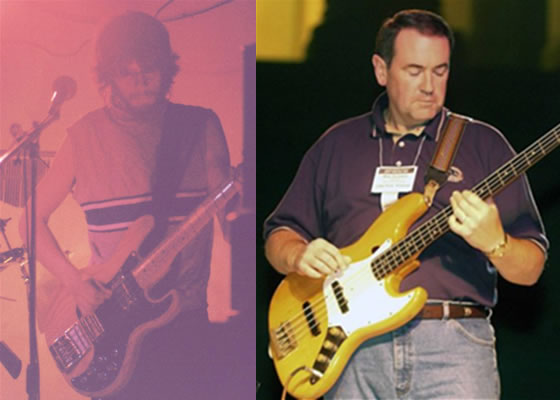 That's me (ca. 1984) and Mike. You see, we share the common bond of the bass. That's the only connection I need.
So if you are a bass player or a guitar player, or play any instrument at all, you, too, can get behind Mike Huckabee this primary season. Maybe you like Chuck Norris movies…that's a good reason, too.
And if you liked what a saxophone player from Hope, Arkansas did for America, just imagine what a Bass player from Hope could do!
Vote Mike!