A No on I-1033 campaign staffer recently related to me a conversation he had with a local reporter, who repeatedly challenged him as to what was wrong with population-plus-inflation as a limit on government growth? "He was playing devil's advocate," the staffer explained.
Hmm. Maybe. Or maybe not.
This is a really complex issue, further complicated by the fact that population-plus-inflation does indeed sound like a reasonable and intuitive metric for maintaining government services at current levels, as it reduces spending to a simple per capita formula, that is easily adjusted for population and inflation: if we spend x amount of dollars per person in 2009, simply multiply x by the 2010 population, adjust for inflation, and voila… a new budget that reflects a constant level of per capita spending.
Rinse. Wash. Repeat.
In fact, this formula is so obvious and so intuitive, that rather than playing devil's advocate, I think it a safe bet that the reporter in question was genuinely confused as to why population-plus-inflation, as implemented in I-1033, would steadily and inevitably erode government spending and reduce the level of services provided over time. So as a service to my friends in the media, I thought I'd attempt to explain the issue with a handful of bullet points.
I-1033 uses the wrong inflation index.
One of the core problems with the population-plus-inflation formula is the thorny question of how we measure inflation. I-1033 uses a broad measure, the Implicit Price Deflator  (IPD) for the gross domestic product, an index that both ignores regional variations in the inflation rate, and more importantly, dramatic differences between different economic sectors.
As I've previously explained the cost of delivering government services rises significantly faster than the general rate of inflation, largely because the kind of highly-trained, labor-intensive services governments tend to provide (doctors, police officers, teachers, etc.) do not benefit from the same sort of productivity gains that technological advances have bestowed on economic sectors such as manufacturing. The more accurate index would be the IPD for State and Local Government Services, which when applied to recent state budgets shows a precipitous decline in spending when contrasted with the Consumer Price Index.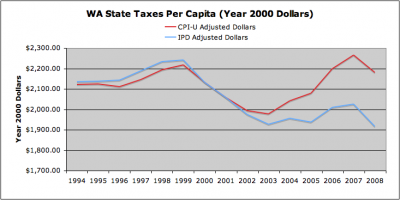 Quite simply, providing a constant level of services per capita requires a constant level of purchasing power. I-1033 doesn't provide that, and will inevitably result in steadily declining per capita revenues, properly adjusted for inflation.
Different populations require different services…
… And of course, different services carry different costs. For example, an aging population has higher health care costs, while a baby boom would increase the cost of providing public education. The population-plus-inflation formula simply cannot account for the associated costs (or savings) of demographic shifts, as it treats all individuals exactly the same. Likewise, the formula cannot account for changing behavioral patterns within demographically stable populations… for example the unexpected rise in public school enrollment during the current recession, as families sought to cut private tuition costs.
Consider this ironic Catch-22: if our current K-12 education reforms succeed in raising both graduation rates and the rate of college attendance, it would inevitably increase demand for slots in our heavily subsidized state college and university system. Quite simply, a well educated student becomes even more expensive to educate, a reality that I-1033 and its strict per capita cap, doesn't anticipate. Lacking the ability to raise per capita spending to accommodate the increased demand its own policies helped to create, the state would be forced to either deny these students a higher education, or shift money from elsewhere… perhaps even K-12 budgets.
Growth in personal income is the measure that best tracks growth in demand for public services.
As explained in the Gates Commission report, and numerous other scholarly works on the subject, the economic number that most closely tracks growth in demand for government services is growth in total personal income, that is, total economic growth.  This is because (and perhaps counter to popular misconceptions) the majority of state and local government services are commodities, and we tend to increase our per capita consumption of commodities as our income grows.  Roads, sewers, schools, courts, public safety, libraries, parks, public health… these and other government services are all things we consume more of the wealthier our society gets, and thus personal income, not population-plus-inflation, is the best measure for tracking growth in demand for these services. It also is the best means of accounting for regional differences in the inflation rate, as wealthier states tend to have higher costs of living.
This is why comparative studies of government revenue, spending and debt always focus on government spending, revenue and debt as a percentage of the GDP. Government spending as a percentage of personal income not only broadly measures the ability of government to meet the demand for public services, it also measures the ability of the economy to afford the government services provided. In this context, population-plus-inflation is virtually meaningless.
Colorado.
Yeah, sure, nobody in our state media has written at greater length or greater depth on tax structure and revenue issues than I have over the past few years, but still, I'm just some foul-mouthed blogger, so why should you believe me?
Well, don't. Just look to Colorado where the experiment with TABOR has proven to be a complete and total fucking disaster. Population-plus-inflation simply does not provide government the revenue necessary to maintain a constant level of services. It didn't in Colorado, and it won't here. That's a fact.
Population-plus-inflation also doesn't provide government the flexibility necessary to respond to the changing wants and needs of its citizenry, but that's a topic for another post.