In 2004, King County Superior Court Judge William Downing issued a controversial ruling that same-sex couples could marry. The Seattle Times, sprung to action to find out where candidates in state-wide races stood:
…King County Councilman Rob McKenna, criticized the ruling's wording as too broad and said its argument that there is no compelling state interest to deny marriage to two people in a committed relationship could leave marriage open to blood relatives or those practicing polygamy.

"It threatens to destroy all standards we apply to the right of marriage," he said.
McKenna didn't quite go as far as describing "man-on-dog" relationships, but the rest sure sounds like the nutty rhetoric of former Sen. Rick Santorum:
Every society in the history of man has upheld the institution of marriage as a bond between a man and a woman. […] In every society, the definition of marriage has not ever to my knowledge included homosexuality. That's not to pick on homosexuality. It's not, you know, man on child, man on dog, or whatever the case may be. It is one thing. And when you destroy that you have a dramatic impact on the quality — […]

The idea is that the state doesn't have rights to limit individuals' wants and passions. I disagree with that.
For what it is worth, the American Anthropological Association—you know, the folks who study humans and their cultures, cross-culturally and historically—take exception to both Santorum's and McKenna's narrow, conservative view of marriage and family:
The results of more than a century of anthropological research on households, kinship relationships, and families, across cultures and through time, provide no support whatsoever for the view that either civilization or viable social orders depend upon marriage as an exclusively heterosexual institution. Rather, anthropological research supports the conclusion that a vast array of family types, including families built upon same-sex partnerships, can contribute to stable and humane societies.
But back in 2004, McKenna could express his inner-Santorum because he had an easy out:
McKenna said that although he agrees with the Defense of Marriage Act, his personal opinions would not enter into how he argued a court case.
That was then…this is now. As Governor McKenna, Rob's personal opinions would have a huge impact on the lives of Washingtonians. His opinion would help inform decisions to sign or veto bills and how the legislation is executed. He would have the bully pulpit for setting the legislative agenda.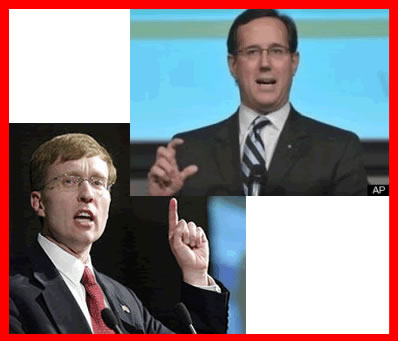 We are on the journey to learn whether Washingtonians are ready and willing to put a little Santorum in the governor's mansion.
(h/t)
Update: In which Stranger reporter and HorsesAss religion correspondent David (Goldy) Goldstein gets pissed on by the McKenna campaign.