In what has got to be one of the most boldly shameless acts of political concern-trolling ever, a political action committee entirely controlled by the Washington State Senate Republican caucus has sent glossy mailers to voters in the hotly contested 45th Legislative District race, bitterly accusing Democratic challenger Matt Isenhower of being a closet Republican! And they don't just slam Isenhower for being a Republican, they slam their own party in the process:
"He's a wolf in sheep's clothing," warns the mailer, "willing to say anything to get elected. Just like his mentors: George W. Bush and Dick Cheney." Ouch!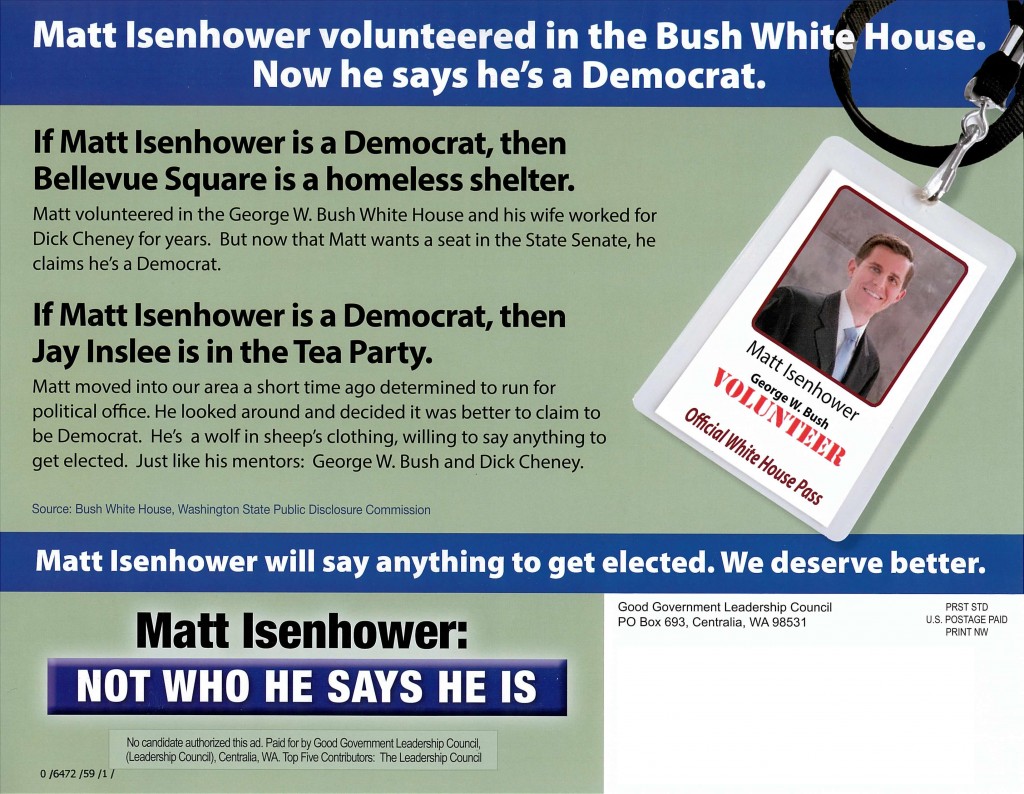 It's an impressive bit of sock puppetry: a dirty lying Republican-funded PAC accusing a Democratic challenger of being a dirty, lying Republican. I mean, you gotta admire their balls. Bravo!
And let's be clear, there is absolutely zero doubt connecting this mailer to the state Senate Republican caucus. According to the Washington State Public Disclosure Commission, the so-called Good Government Leadership Council that paid for this mailer is entirely funded by the Leadership Council, a PDC designated caucus committee run by Republican Senator Mike Hewitt, with an SRCC.org email address. Its top contributors include a rogues gallery of Republican moneybags, including the Washington Restaurant Association, the Building Industry Association of Washington, and Eastside developer George Rowley.
The NW Progressive Institute Advocate has more of the mailers up online.
So, two take-aways. First, the SRCC must be awfully damn worried about incumbent Senator Andy Hill's reelection prospects to have to stoop to this creative new low in his defense. Second, could the Republican brand get any worse, that even Republicans are now willing to throw their party under the bus if they think it will net them a temporary electoral advantage?
Instead of accusing their Democratic opponents of being Republicans, the GOPers might want to take a moment to ponder why that charge is such an effective negative attack?