It was June 3rd, 2008 when Barack and Michelle took part in something destined to be call "the fist bump heard 'round the world."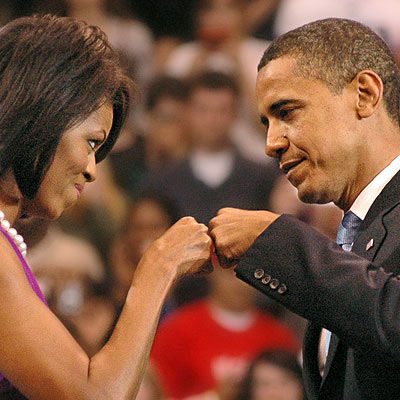 Conservative reporters, commentators, pundits, and comment thread trolls attributed all sorts of nefarious meanings to the simple act. Clearly, it was some kind of sign of the future first couple's radical Black Panther-esque militancy. Or was it a Terrorist Fist Jab™ asked a FAUX News infotainer? She then brings on a "body language expert" to get to the bottom of it:
But my favorite comes from a FAUX affiliate in Detroit whose expert found much to be admired in the Obamas doing "a lot of touching, kissing, even fisting with one another…" (skip to 1:50):
So…happy Fist Bump Day to all friends of HA.
Oh…and try to take a little time today for fisting your friends.