A new Rassmussen poll of the Washington state gubernatorial race shows Gov. Christine Gregoire (D) leading challenger Dino Rossi ("G.O.P. Party") 50% to 46%, with 5% "undecided". The poll had 500 respondents and was taken on August 6th. The margin of error is 4.5%
This race is a rematch of the 2004 closest gubernatorial race in history that Gregoire won by 133 votes after a count, a mandatory recount, one recount requested by the Democrats, and a failed Republican lawsuit challenging the election. (Rossi ran as a Republican in 2004. This year he is running under the "G.O.P. Party" label.)
The close 2004 election led to extraordinarily early polling for the 2008 race. In the first 15 polls conducted from August 2005 until November 2006, Rossi led Gregoire, and always with over 50%. But with this current Rasmussen poll, Rossi has not held the lead for 16 consecutive polls—going back to February 2008: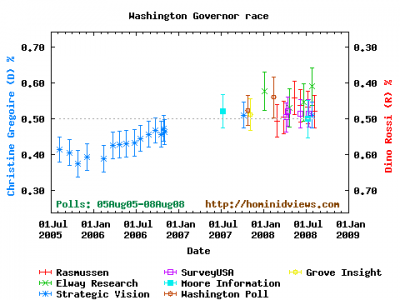 Also, Gregoire has now polled at 50% or better in the raw percentages for the last two polls (the graph shows the normalized percentages).
My usual analysis, a simulation of a million elections of 500 people each, shows Gregoire winning 735,981 times and Rossi winning 253,856 times. This suggests that, if an election were held today, Gregoire would have a 74.4% chance of winning and Rossi would have a 25.6% change.
The simulation yields a distribution of votes that looks like this: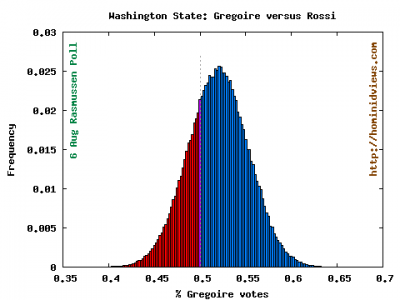 Rasmussen also polled for the Obama–McCain race in Washington state. Obama leads McCain 54% to 42%. Obama's +12% advantage matches the +12% in the previous poll, an Elway poll from late July, and the +11% of a Strategic Vision poll taken just before that. In fact, this race has largely stabilized in Obama's favor after a weak spell in March: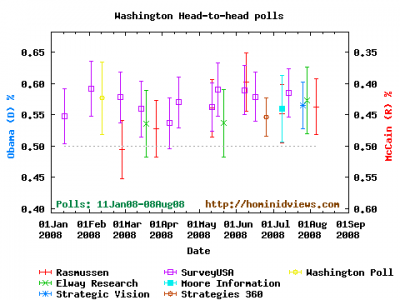 (Cross posted at Hominid Views)