A new poll in the Washington state gubernatorial race between Gov. Christine Gregoire (D) and Dino Rossi ("G.O.P. Party) has been released by Elway Research. I mentioned the poll in yesterday's poll round-up, but I had not seen the full report.
It turns out the polling was somewhat complex. The poll sampled 450 registered voters between 6-Sep and 8-Sep. The overall margin of error is 4.5%, although in the most interesting analyses, they split samples in half, giving a margin of error within a group of 6.5%.
Elway split the sample into two groups. Group one was asked to chose between "Republican Dino Rossi" and "Democrat Christine Gregoire." Group two was asked to chose between labels as they appear on the Washington state ballot. That is, they were asked to chose between Rossi, "who prefers the GOP party" and Gregoire, "who prefers the Democratic party."
Subgroup one gave Gregoire a 50% to 41% lead over Rossi. Group two gave Gregoire a 48% to 44% lead. With a 6.5% margin of error, the differences in these findings are nowhere near achieving statistical significance. In other words, the differences between the two subgroups could simply reflect sampling error.
Just for fun, let's analyze these as separate polls and combine them later. As usual, I use a Monte Carlo analysis, consisting of one million simulated elections, drawing from the polled population.
The weakest results for Gregoire come when Rossi is introduced as preferring the "G.O.P. Party." Following a million simulated elections, Gregoire wins 660435 times and Rossi wins 321369 times. This suggests that, if the election was held now, Gregoire would have a 67.3% probability of beating Rossi. Here is the distribution of vote outcomes from the simulations: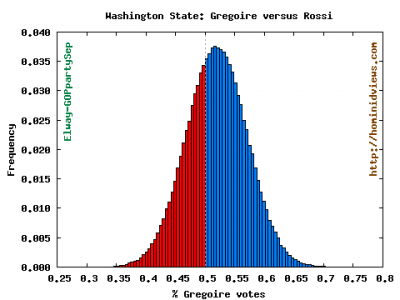 When Rossi is called a Republican, his chances go down a bit. Now, after a million simulated elections, Gregoire wins 834,999 times and Rossi wins 153,178 times. This subsample, treated as its own poll, gives Gregoire an 84.5% of defeating Rossi (if the election were held now).
I would argue for using both samples. First, because the difference is not significant. It may be that Washington voters react negatively to Rossi as a Republican. Or not. The sample size was not sufficient to statistically support the idea. Secondly, because I have a difficult time believing that come November the voters will not think of this as a race between the state's top Democratic candidate and the state's top Republican candidate.
In the pooled analysis Gregoire wins 838,346 times. Rossi wins 153,042 times. If the election were held now, based on this poll alone, Gregoire would have an 84.6% probability of defeating Rossi. Here is the distribution: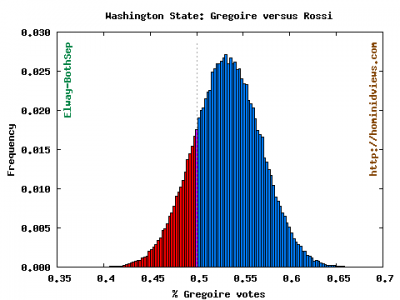 Let's consider one more permutation. The new Elway poll actually falls between two other recent polls, so lets pool all the recent polls. The recent Rasmussen poll was conducted on 10-Sep. It gave Rossi a 52% to 46% lead over Gregoire. And the slightly older SurveyUSA poll was conduted from 5-Sep to 7-Sep. It gave Rossi a 48% to 47% lead over Gregoire.
When the Elway results are pooled with the Rasmussen and SurveyUSA results, Gregoire wins 451,469 times and Rossi wins 541,349 times. In other words, these recent polls suggest that, if the election were held now, Gregoire would have a 45.5% probability of winning and Rossi would have a 54.5% probability of winning.
<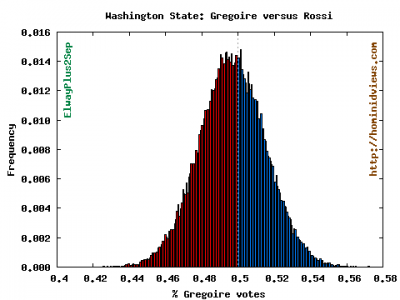 One final note. In my previous analysis of this race I pointed out that both the SurveyUSA and Rasmussen "polls show a surprising decline in Obama's standing against McCain—a post-convention decline that is larger than anything I've seen in other blue states." The suggestion was that, perhaps, both polls, by chance, drew samples that were favorable to both Rossi and McCain. There were some hints of this in the cross-tabs of both polls (like a surge in women chosing McCain in the Rasmussen poll).
The Elway poll lends a bit more support for the idea. In a McCain–Obama match-up, Obama came out ahead of McCain, 45% to 38%. The +7% advantage for Obama is more in line with other polling than is the +2% found in the Rasmussen poll and the +4% found in the SurveyUSA poll.
But without additional evidence, I'm forced to take the pooled results and giving Rossi a very narrow lead over Gregoire right now.
(Cross posted at Hominid Views.)