Chris Grygiel at Strange Bedfellows reports on a new Elway poll that looks at the Washington state gubernatorial race. I'll get to Chris' odd take on the results below, but first I want to examine the poll in some detail.
The poll of 405 people shows Governor Christine Gregoire leading Dino Rossi 43% to 38%. The 5% spread looks to be a small improvement for Gregoire from the 4% spread she had in a mid-April SurveyUSA poll, and definitely better than the 1% spread in the early April SurveyUSA poll and the 1% spread in a late March Rassmussen poll.
The current Elway poll results do fall within its margin of error. Statistically, this means that the probability of Gregoire beating Rossi is something under 95%, based on what we can tell from a relatively small sample.
While it's easy to dismiss the results as a "statistical tie" (especially when…you know…it's your candidate who is losing) poll results can be more informative than declaring a "statistical tie." They allow us to estimate probabilities that Gregoire or Rossi would win in an election held now.
The most intuitive way of extracting that information is to use Monte Carlo simulations of elections and simply count the number of Gregoire wins and Rossi wins. I simulated a million gubernatorial elections of 405 voters each election. Each person had a 43% chance of voting for Gregoire, a 38% chance of voting for Rossi, and a 19% chance of voting for neither.
Gregoire won 889,889 of the elections, and Rossi took 100,318. In other words, the poll results suggest that, in an election held right now, Gregoire would have an 89.9% of winning the election and Rossi would have a 10.1% chance of winning the election.
Here is a plot showing the distribution of votes in the million elections: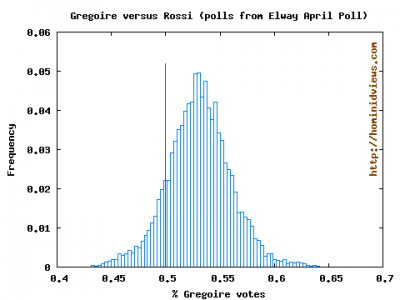 The area to the right of the red line shows wins for Gregoire and those to the left are wins for Rossi.
Chris Grygiel had an interesting take on this race ("Rossi gains on Gregoire in new poll," reads the headline). He portrays Gregoire as losing ground with this poll, because she did even better in a January Elway poll. But the reality is that numerous polls have been taken since January, and the ground that Gregoire lost happened months ago.
A late February Rasmussen poll showed Rossi with a 61% chance of beating Gregoire. That turned around in late March and Early April when polls released by Rasmussen and SurveyUSA each gave Gregoire a 61% chance of beating Rossi. By mid-April, Gregoire was up to an 87% chance of winning an election. Now, in early May, the Elway poll gives Gregoire a 90% probability of winning.
Gregoire seems to have momentum on her side…at least, that's what the recent polls say.