SurveyUSA has come out with their July poll in the Washington state gubernatorial contest. The poll shows Gov. Christine Gregoire (D) leading challenger Dino Rossi (GOP-Party) 49% to 46%. The poll of 666 people was taken from July 13th to July 15th.
The new poll follows the release of two other polls within the last week. A few days ago, Moore Information released a poll in this race that was taken from July 9 to July 10. It showed Gregoire and Rossi tied at 45%. The Moore Information poll was paid for by the Rossi campaign.
Last Friday, a poll was released by Rasmussen Reports, showing Gregoire leading Rossi, 49% to 43%. That poll was taken on July 9th. Gregoire led Rossi by single digit margins in all three June polls, including last month's SurveyUSA poll that gave Gregoire a +3% advantage.
I'll offer two Monte Carlo analyses using the new poll. First is an analysis of the poll numbers in the new SurveyUSA in order to estimate the probability that Gregoire (and Rossi) would win an election held right now. I simulated a million gubernatorial elections of 666 voters each, where each voter had a 49% chance of voting for Gregoire, a 46% chance of voting for Rossi and a 5% chance of voting for neither.
Gregoire won 780,736 of the simulated elections and Rossi won 11,542 times. This suggests that, in an election now, Gregoire would have a 79% probability of winning and Rossi would have a 21% probability of winning. A statistician would point out that Gregoire's lead in this poll is within the margin of error (i.e. her probability of winning is less than 95%).
Here is a plot showing the distribution of votes in the million elections (blue bars are wins for Gregoire and red bars are Rossi wins):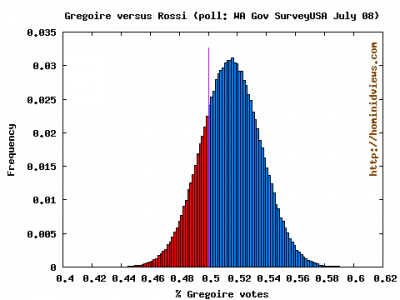 The second analysis combines the polls from Rasmussen Reports, Moore Information, and SurveyUSA. Since the combined responses were all taken within one week, from July 9th through the 15th, we could look at the combined polls as the best evidence available for who would win the election now.
The combined polls yield a pool of 1,565 polled people, of whom 751 (48.0%) voted for Gregoire, 703 (44.9%) who voted for Rossi, and 111 (7.1%) who voted for neither. Again, I simulate 1,000,000 elections, this time with 1,565 people.
Gregoire won 893,646 of the simulated elections and Rossi won 101,700 times. The results suggest that, if an election were held now, Gregoire would win with an 89.9% probability, and Rossi would win with a 10.2% probability.
Here is a plot showing the distribution of votes in the million elections for the combined polls: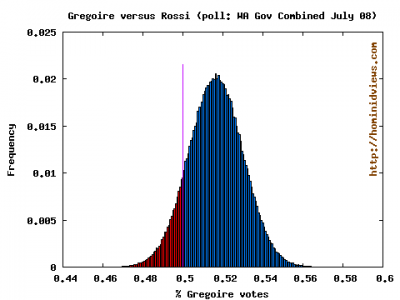 SurveyUSA also polled for the presidential election in Washington state. Sen. Barack Obama (D) leads Sen. John McCain (R) 55% to 39%. Obama's lead is well outside the 3.9% margin of error for the poll.
(Cross-posted at Hominid Views.)