The race between Gov. Christine Gregoire (D) and Dino Rossi ("G.O.P. Party") remains only slightly clearer than mud today with the release of a new Strategic Vision poll. The poll shows Gregoire leading Rossi by +2% (50% to 48%).
That makes four +2% leads in a row, as Gregoire's led by +2% in the three previous polls as well: a Washington Poll poll (50% to 48%), a SurveyUSA poll (50% to 48%), and a Strategic Vision poll (49% to 47%).
Before that, Gregoire held a +6.4% (51.4% to 45.0%) lead in the previous Washington Poll poll taken from 18-Oct to 26-Oct.
The recent polling shows Gregoire with a small, but consistent, lead in the weeks leading up to the election: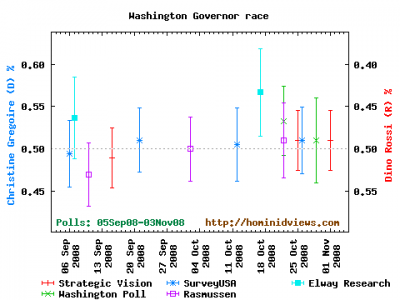 In fact, Gregoire has led in all eight polls taken since mid-October. The last time Rossi held the lead was in mid-September.
The new Strategic Vision poll also shows Obama leading by +15% (55% to 40%) in the state. (The poll of 800 likely voters was taken between 31-Oct and 02-Nov, and has a margin of error of ±3%.)