And so it goes. Washington state Gov. Christine Gregoire (D) has re-taken the lead from Dino Rossi ("G.O.P. Party"), 50% to 48%, in the latest poll by SurveyUSA. The poll of 682 likely voters was taken from 21-Sep to 22-Sep and has a margin of error of 3.8%.
So, let's recap the September poling. A week ago, a Strategic Vision poll gave Rossi a 48% to 46% lead. Before that, a Rasmussen poll had Rossi up by a remarkable 52% to 46%. Then in early September we had an Elway poll that gave Gregoire a 49.1% to 42.4% lead and a SurveyUSA poll that had Rossi up 48% to 47%. So what is going on?
Because I've been systematically collecting and analyzing state head-to-head polls for every gubernatorial, senatorial and presidential race with an OCD-like fervor this election season, I've noticed a very strong pattern. In numerous states, for all three race types, I see examples of a Republican bump in the polls during the first half of September, only to see it fall again in the second half of September.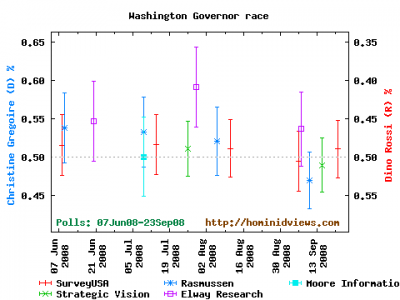 Call it a "Palin surge," if you will. I call this transient phenomenon: "The Republican Awakening." And it has largely diffused over the last week in races all over the country.
We see it here in the Washington state gubernatorial race. That's my story, and I'm sticking to it—at least until a more compelling hypothesis that better explains the data pops up. Back to the objective analysis.
Gregoire's lead is, clearly, within the margin of error. We can empirically determine the probability that either Rossi or Gregoire would win an election held now using a Monte Carlo analysis.
A million simulated elections of 682 voters gives Gregoire 636,814 wins, and Rossi 353,324 wins. If an election had been held today, we would expect Gregoire to win with a 64.3% probability and Rossi to win with a 35.7% probability.
Here is the distribution of electoral votes resulting from the simulation.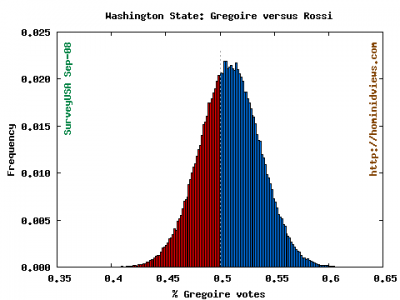 The same SurveyUSA poll finds Sen. Barack Obama leading Sen. John McCain 54% to 43%. The +11% lead is even wider than a week-older ARG poll that had Obama up 50% to 44%. And compare that to the two mid-month polls: a Strategic Vision poll and a Rasmussen poll that each gave Obama a smallish single-digit lead (+5% and +2% respectively).
See how the "Republican Awakening" thing has melted away?