| | |
| --- | --- |
| Senate Democrats | Senate Republicans |
| 100.0% probability of a majority | 0.0% probability of a majority |
| Mean of 59 seats | Mean of 41 seats |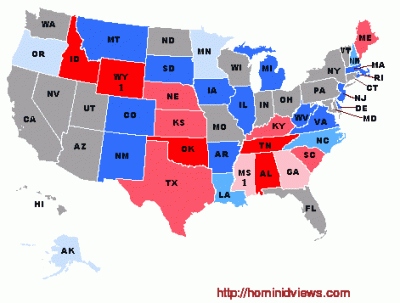 Here is an analysis of the recent Senate polling and what these polls suggest about control of the Senate. I am using methods identical to what I've been doing for the presidential race except that, because of the relative paucity of polling in Senate races, I use polls taken in the last three weeks as "current" polls.
A Monte Carlo analysis of 100,000 simulated elections gives Democrats control of the Senate with, on average, 59.0 seats to the Republican's 41.0 seats. The analysis suggests that, if the election had been held today, the Democrats would have about of 30% chance of taking a "veto-resistant" 60 seat majority.
Here is the distribution of outcomes from the 100,000 simulations. The tallest bar (i.e. the mode) in the distribution is at 59 seats. (Of course, I am assuming that the two "Independents" in the senate—Senators Sanders and Lieberman—continue to caucus with the Democrats. There is about a 25% probability of exactly 60 seats and about a 5% probability of taking 61 seats.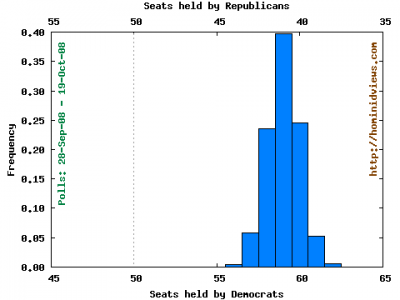 Detailed results for this analysis, including the polls that contributed to this analysis, are available at Hominid Views.
Methods are described in the FAQ. The most recent version of this analysis can be found on this page.