| | |
| --- | --- |
| Obama | McCain |
| 100.0% probability of winning | 0.0% probability of winning |
| Mean of 363 electoral votes | Mean of 175 electoral votes |
There was little change in the electoral map after the release of seven new polls in six states today. Obama led by a remarkable +8% in a Florida poll, and +2% and +5% in two Ohio polls. Oh…Obama led by +11% in Oregon, too. Today's big surprise was that McCain's lead in Georgia has dwindled to +3% in a new poll today.
After 100,000 simulated elections, Obama still wins every one of them. He receives (on average) 363 to McCain's 175 electoral votes—same as he had yesterday. If the election was held now, Obama would almost certainly win.
Here is how this election has evolved over the past eight months. In early September we saw a Palin bump (as Goldy likes to call it) or a transient "Republican awakening" as I call it. Since about mid-September, Obama has rapidly recovered any lost ground and then some.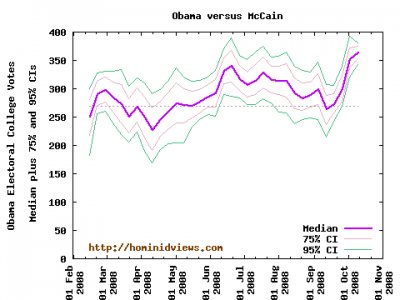 Detailed results for this analysis are available at Hominid Views.
Methods are described in the FAQ.The most recent version of this analysis can be found on this page.