The Seattle Chapter of Drinking liberally meets tonight. There is much to talk about: Jay Inslee is in for Governor, and is leading McKenna in a new poll. Roger Goodman will run for Inslee's 1st congressional district seat. Secretary of State Sam Reed is out, leaving three open statewide contests for 2012. Oh…and Seattle police leave an assault rifle unattended on a patrol car!
Please join us tonight for drinks, conversation, dinner, and assault weapons tips at the Montlake Ale House, 2307 24th Avenue E. Starting time is 8:00 pm, but a few folks show up around 7:00 pm for dinner.
Actual Google News screencapture: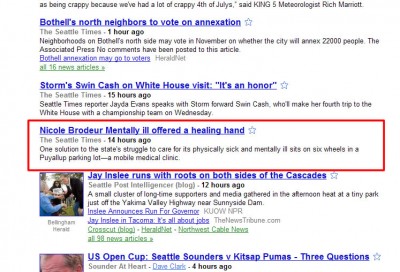 Can't make it tonight? There will be a special fireworks edition of Drinking Liberally, Newport Hills on the 4th of July. The fun begins at the Mustard Seed, 7:00 PM. Then, at about 8:30 or 9:00, they'll make a short trip over to Newcastle's Lake Boren park for the fireworks.
Finally…Have you registered for NWroots on July 9th? First Congressional District candidate Roger Goodman will open up the conference, announce his candidacy, talk a bit about the disastrous war on drugs, then introduce the current 1st District Congressman and gubernatorial candidate, Jay Inslee. Other featured speakers are 4th Congressional Candidate Jay Clough, attorney Cyrus Habib, "dreamer" Also Chehade, Washington State Labor Council President Jeff Johnson, Congressmen Jim McDermott and Dennis Kucinich, and, a special guest from Canada, former Canadian Health Minister Ujjal Dosanjh, who will address single payer health care. There will be sessions and panels on the media, health care, immigration, labor, agricultural policy, the mortgage crisis, electronic voting issues, and an excellent 25 minute documentary on Afghanistan. There will be a candidates social, a special musical performance by the Total Experience Gospel Choir, and an after-party at Seattle's oldest saloon. Find more information and register here.