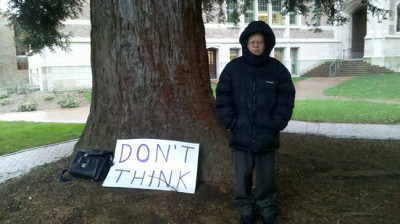 This photo was taken last month on the University of Washington Campus. I was on my way to a class which limited our conversation to about a minute.
The man was elusive about his purpose. He seemed sincere and said the sign wasn't mean to be ironic. He wanted to know what the sign meant to me, but he denied this was research (like for a psychology class or something). And, no, this wasn't some sort of performance art. He said nothing to suggest it was a religious thing.
He wanted to tell me all about the meaning of the sign, but said it would require a longer conversation (and, I presume, some thinking). I never saw him again.
Anyone have a clue?