You know that nut-job uncle of yours who keeps forwarding shit to your email about how Obama is a Muslim trying to take away our guns and hand America over to the UN? Yeah…that guy?
Now suppose you engaged in an economic game with him beginning in the early 1960s. You each would invest $1,000 in the stock market. But he would do so only during the terms of Republican Presidents. You would do so only during the terms of Democratic presidents. Who'd be ahead today?
Clearly your Uncle would be wiping your socialist ass with the help of Republican Presidents and their laissez-faire, free market, capitalist policies. Right?
Um…not so much: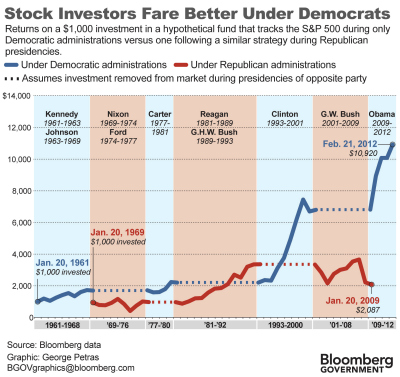 Uncle Billy-Bob: $2,087
You: $10,920
(And Billy-Bob has almost five extra years of investment on you. )
Any questions?