Yesterday we had a new Elway poll in the senatorial race between Sen. Patty Murray (D) and real estate opportunist Dino Rossi (R).
Today there is a new CNN/Time/Opinion Research poll weighing in on the race. The poll of 850 likely voters, taken from October 8 through 10, has Murray leading Rossi 51% to 43%. The margin of error is 3.5%. This result is pretty similar to yesterday's Elway poll.
A Monte Carlo analysis consisting of a million simulated elections at the observed preferences in this new poll has Murray winning 954,664 times and Rossi winning 42,982 times. The evidence from this latest poll suggests that, in an election held today, Murray would win with a 95.7% probability; Rossi with a 4.3% probability. Here is the distribution of outcomes from the simulated elections: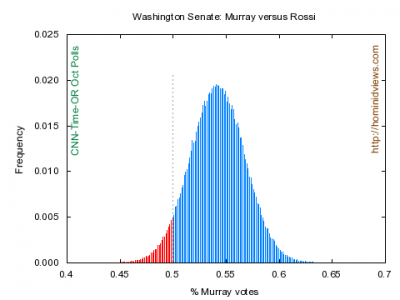 But I missed another poll that was released on Monday or Tuesday. A FOX News poll taken on 9 Oct on a sample of 1000 individuals found Murray with a 47% to 46% lead over Rossi (3% margin of error). Thus, there have been a total of four polls published in October and Murray has led in the last three—Rossi last led in a 6 Oct Rasmussen poll.
Given that all four of these polls were taken either consecutively or over overlapping days, we can combine them for a better picture of how this race is shaping up over the the second week of October. The four October polls give a total of 3,050 responses, of which 2,842 went to either Murray or Rossi. Murray got 1,478 ( 48.5%) and Rossi got 1364 ( 44.7%). A Monte Carlo analysis gives Murray 934,835 wins to Rossi's 63,503 wins.
Thus, the four polls combined provide evidence that an election held over the past week would go Murray's way with a 93.6% probability, and would go Rossi's way with a 6.4% probability: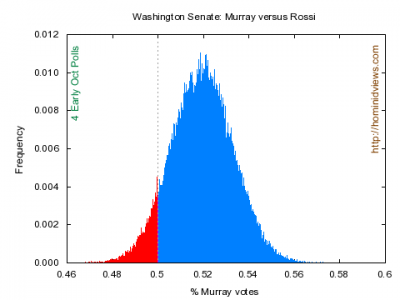 A look at the polling to date suggests that Murray's September slump has ended; she has clearly retaken the lead and it seems to be her strongest lead to date.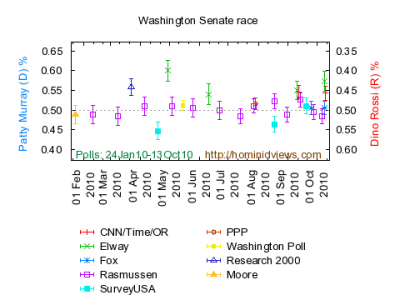 This is definitely a good position for Murray to be in during the week that ballots drop. The next couple of polls will be telling, and I think we'll have new polls from Survey USA and the Washington Poll within a few days, so stay tuned….
(Cross posted at Hominid Views.)