The blame game is on. Lacking polls to kick around anymore, pundits are looking for the cause(s) of Mitt Romney's spectacular loss.
For months, we heard that the race was supposed to be a "nail biter." And toward the end, we heard that Romney "had the momentum." Things were looking promising for a Romney victory.
In the coming weeks, I'm sure we'll see many hypotheses and analyses, and proposed turning points where the momentum was lost and Romney's fate was sealed.
But here's the fact: Romney lost because he was never ahead in the election. Unlike McCain in 2008, Romney was always losing the 2012 election.
This election was no spectacular loss. It was the ordinary loss of a candidate who was always behind. Period.
It was always in front of our eyes (and I did my best to point it out). The state head-to-head polls never showed Romney with much of chance of winning.
Here is a daily Monte Carlo analysis of the head-to-head polls over the two month leading up to the election (one week "current polls" window):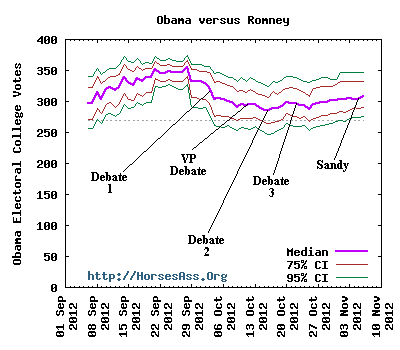 Romney did have "momentum" in this race. It started before the first presidential debate, following Obama's post-convention bubble, around the 29th of September. The momentum ended with Romney at his strongest showing around the second presidential debate. Even at his strongest, Romney only had about a 25% chance of winning.
I suppose this was a turning point more than any other. If Obama had blown the second debate, Romney might have maintained his momentum and gone on to win.
But, instead, Obama gained the momentum. From the second debate forward, Obama's lead grew slowly and steadily, and his chances of winning increased. By the last day of October, Obama hit a 95% probability of winning the election. He still had the momentum.
Hurricane Sandy made no difference whatsoever (as Mitt Romney seems to believe); nor Hurricane Christie. Obama's win was well secured by that point.
To believe Romney had a chance was to dismiss hundreds of polls as simultaneously skewed. But, like 2008, in this election, aggregation of the state head-to-head polls gave an entirely accurate picture of the election.
At least one right-winger may have let on that he actually does understand why Romney lost:
"We're outnumbered."

— Rush Limbaugh, on his radio show.