In 2004, Washington state witnessed the closest gubernatorial election in history, as then Attorney General Christine Gregoire defeated then real estate broker salesman Dino Rossi by 129 votes (later changed to 133 by a court).
A year and some later (April, 2006), the now defunct East Side King County Journal asked about Rossi What's his shelf life?:
The charismatic and smooth conservative came within a whisker of winning the governor's mansion in 2004 and is widely expected to seek a rematch with Democrat Chris Gregoire in 2008. Will it be "Dino Who?" by then?

In politics, it is said that a year is an eternity. So what does that make Rossi's four-year hiatus with no political office or bully pulpit while Gregoire relentlessly dominates news cycles week after week?
It was an interesting time to ask the question. At the time, Rossi was leading Gregoire by 51% to 38% in a Strategic Vision poll asking about the 2008 election. In fact, Rossi had led Gregoire by more than 50% to Gregoire's less than 40% in the five other polls taken after the election contest and before April 2006.
The Republicans resoundingly lost the legal battle in the election contest of 2005, but they won the PR battle. Governor Gregoire began her first term polling as less popular than the loser of the election. After a highly contentious, close election, followed by a multi-million dollar Republican dis-information campaign (a.k.a. the election contest), Gregoire's approval–disapproval spread started out strongly negative, and remained in negative territory for her first year in office. Then, after a 6 months period of nearly even approval (Jan 2006 until June 2006), Gregoire emerged from negative approval-disapproval territory.
Starting from a very bad position, Gov. Gregoire genuinely won over the electorate.
But what about Rossi? When he launched his 2008 gubernatorial campaign (umm…for the second time), Rossi routinely quipped:
"Last time I started with a 12 percent name identity statewide. Most everybody thought Dino Rossi was some kind of wine at that point. A cheap wine at that," Rossi said….
But name recognition isn't enough. On the public's perceptional palette, had Rossi matured into a vintage wine? Or had Rossi's cheap wine turned to vinegar?
In 2005, Pollster Stuart Elway pointed out:
"'We wuz robbed' won't be a strong campaign theme, and Dino will have to present a credible challenge to an incumbent this time. It won't be like he's a challenger coming from out of nowhere, but my question is how he stays on the radar screen when he doesn't hold any office."
Elway's concerns were prophetic. Rossi was never able to remain an important player in Washington politics. (Hell…he wasn't much of a player in Washington state Republican politics, either.) For example, Rossi refused to take a stance in Initiative 912 that would have repealed a state gas tax increase. Neither has Rossi grown in the interim. His campaign stump speech has evolved minimally since 2004. And, at least early in the campaign, Rossi was still running on the "We Wuz Robbed" platform.
The inevitable result is that Rossi has squandered his position of great strength from 2005 and 2006. Just look at the polling. Here is a compilation of every publicly-released head-to-head Gregoire–Rossi poll for the 2008 election: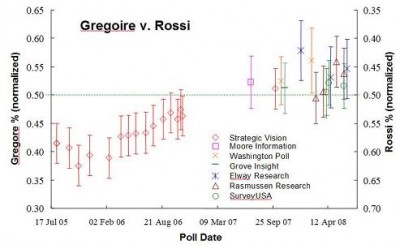 (Note: different pollsters probe undecided voters to very different degrees. To make the numbers comparable, I have normalized the results so that the Gregoire% + Rossi% sum to 100%.)
After leading in the first 15 polls in a row (through November 2006), Rossi has lost all but one of the most recent 15 polls. A running average puts Rossi about 7% below Gregoire. At this time during the 2006 election cycle, senatorial candidate Mike McGavick, running against an incumbent Sen. Maria Cantwell, had just peaked at 9% below Cantwell. In other words, beginning with a huge advantage in 2005, it looks like Rossi's residual advantage of the 2004 election (and contest) has shrunk to, roughly, a 2% advantage over McGavick's unimpressive performance.
The electorate just isn't taking a liking to the Rossi-brand whine. (Perhaps Rossi shouldn't be building a campaign on sour grapes.)
(Cross-posted at Hominid Views.)