Sen. Pam Roach has an anus problem. Last night as the Senate passed bill 5297 that requires medically and scientifically accurate sexual health education, Sen. Roach clenched her…her…fists, and proclaimed:
What does the word anus have to do with sex ed when we're talking to fourth graders? No parent wants their child to be talking about sex and anuses.
Sen. Roach was outraged by instructional materials for a 4th-6th grade curriculum she found on the King County website that includes the word "anus." (Sen. Roach has a point—hearing your kid talk about sex and anuses is probably not high on the list of parental moments to savor. But it helps if your kid at least uses scientifically accurate terminology….)
Roach's problem is that she, apparently, doesn't understand the difference between sexual health education and "talking about sex." Apparently, there is no room in her world view for an objective discussion of other anatomical structures as part of an education in reproductive anatomy. Might this attitude come from a belief that sex is only for procreation?
Here is a figure from the King County website that is part of a typical lesson in the 4th-6th grade curriculum that includes "talking about sex and anuses."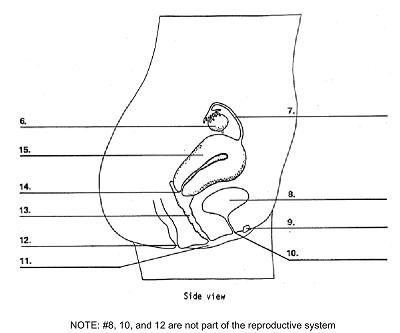 Clearly, there is a leftist agenda at play here–I mean sneaking the bladder, urethra, and anus into the same diagram as the female reproductive system is a pernicious attempt to promote promiscuity and homosexuality (while giving in to the terrorists). The agenda could only have been more blatant by including the G-spot….
I think it's revealing that Pam Roach found "anus" objectionable in the anatomy lesson, but not "bladder"—revealing about the state of Pam Roach's own anal sphincter. And I think we can all agree that thinking about Pam Roach's sphincter is inappropriate at any age.
UPDATE:
Sen. Roach may have a point. From what I understand about trends in teen sex, the diagram emphasizes the wrong end of the alimentary canal. [–Goldy]