In case you haven't noticed, I love collecting and analyzing polls—they tell me the score in the game of politics. Like I did in 2008, this year I'll collect polls and do analyses for the presidential races, the Senate races, and the gubernatorial races.
What I won't do (with a few exceptions) is analyze races from the House of Representatives.
Why ignore House polls? Because there are too damn many House races and too few polls released for them. That's why.
Seriously, this is a hobby, and I can hardly keep track of the relatively small number of Senate and gubernatorial races without having to keep track of an additional 435 House races. Instead, I follow a few races of interest, mostly from Washington state. And I follow the "generic congressional polls."
Generic congressional polls ask something like, "If the election for the U.S. House was today, would you vote for the Republican candidate or the Democratic candidate."
Empirically, subtle swings in the results of these polls seem to be amplified into larger electoral swings. They somehow capture the mood of the electorate.
For the past year there have been over 80 generic congressional polls taken on a national sample. Here is what they look like in aggregate over the past year: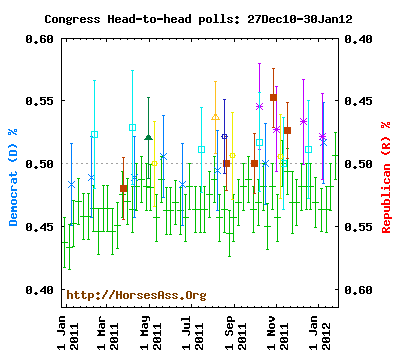 The trend is encouraging for Democrats, who have gone from a deep deficit in late 2010 to what looks like a tie in early 2012.
Notice anything funny about the graph?
Yeah…it's pretty obvious, isn't it. The "green" pollster seems to have a (roughly) 5% bias in favor of Republicans.
Wanna guess who that pollster is? If you guessed Rasmussen, you're right. Here are the Rasmussen polls shown alone: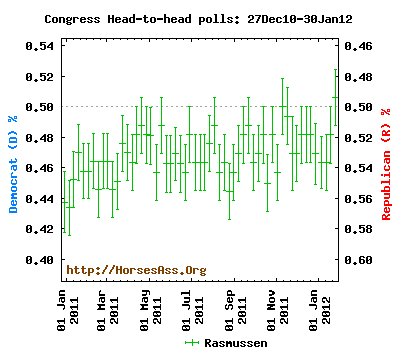 If you are a Republican, perhaps this is the only pollster you watch. If so, then things looked okay until today, when Rasmussen reported for the first time in a year a net advantage for the generic Democratic candidate. But don't panic, my Republican friend…I mean, it could just be a fluke.
Or not. Here are all the other pollsters except Rasmussen: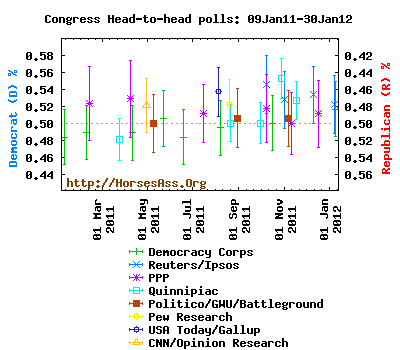 If we are to take the collective findings of eight other pollsters over Rasmussen, the generic Democratic House candidate has led the generic Republican House candidate since sometime in August 2011.
In fact, you might say that, without the Rasmussen results, Republicans might have been in a state of panic for the past six months—instead of just the past 12 hours.