Another day another poll in the race between incumbent Senator Patty Murray (D) and real estate speculator and perennial candidate Dino Rossi (R). Just yesterday, an Elway poll showed Murray leading Rossi 50% to 41%. I understand some folks are skeptical about the veracity of Elway's polls, so this new poll will be interesting….
Today's poll, by CNN, Time, and Opinion Research, queried 906 likely voters in Washington state. In the poll, Murray leads Rossi by a stunning 53% to 44%. (Among registered voters, rather than likely voters, Murray leads Rossi by 50% to 44%). That's even more favorable for Murray than the Elway poll!
As usual, I'll do a Monte Carlo analysis to get a better feel for the odds of each candidate winning as suggested by the new poll results. After a million simulated elections using the likely voter numbers and percentages, Murray won 973,114 times, and Rossi, 25,471 times.
In other words, if the election was held right now, the evidence from this poll suggests Murray would have a 97.4% probability of beating Rossi. Because the winning percentage is over 95%, statisticians would deem this "statistically significant." That is, Murray's lead isn't very likely to be an artifact of a small sample. Here is the distribution of outcomes from the simulation: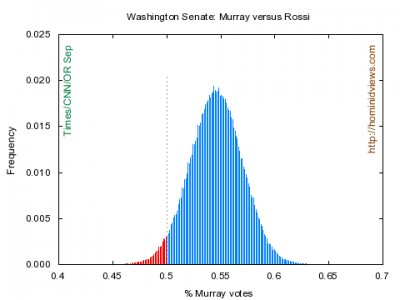 That's a lot of blue there….
Since yesterday's Elway poll was taken just a few days earlier, we can reasonably combine the evidence from these two polls. There were a combined total of 1,406 "votes" of which 1,334 went to either Murray or Rossi. Murray took 51.9% of the "votes" to Rossi's 43.0%. A series of simulated elections from the joint polls gives Murray 992,496 wins to Rossi's 7,124 wins. In other words, these two polls suggest that Murray would have a 99.3% chance of beating Rossi if the election had been held now. Here's the distribution: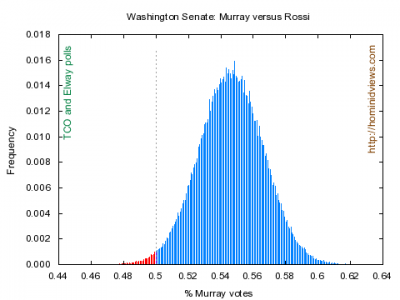 That's even more blue!
Clearly…the one thing Rossi is badly in need of in this race is more SurveyUSA polling!
Update: Here is what the polling looks like this year for the race….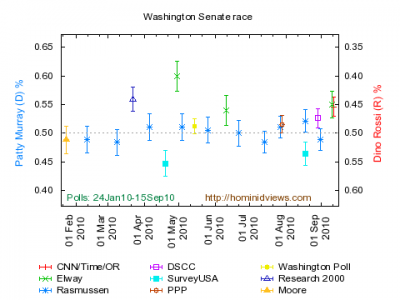 Clearly, the summer slump has ended.