Salon's "Ask the Pilot" columnist Patrick Smith writes:
Which brings us to [Hong Kong Airport's] most impressive and appealing feature: its rail connection to the city. The sleek, high-speed Airport Express train is literally only steps from the arrival and departure halls. Within a half-hour of landing you can be alighting at Kowloon or Hong Kong Island — without ever having stepped outside. Returning to the airport, you can check your bags and get your seat assignment right there at the downtown station.

Kuala Lumpur, Tokyo-Narita and Shanghai are among other spots in Asia with similar railway links. And this is where it gets depressing. Why can't American airports have public transport like this?
Amen.
I left on Alaska Air flight 2 for Reagan National on Wednesday, escaping a rainy, 40 degree Seattle to arrive at a rainy 40 degree evening in Washington, D.C.
(Aside: Our Boeing 737 did a go-around on final approach. My initial thought was that the controller fell asleep before issuing our landing clearance. Alas another plane was taking too long to exit the runway, so the controller, very much awake, thank you, instructed the pilot to go around).
I fly to D.C. once or twice a year, and I always fly into Reagan. I suppose you could say that I love Reagan. I love being able to hop on the Metro and quickly be within a short walk of any destination I need to be at.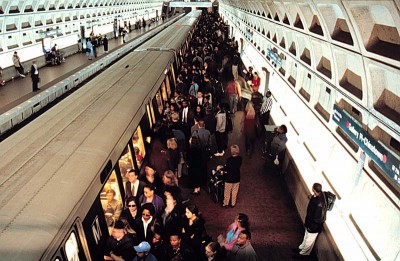 A metro-like rail connection should be a feature of every large American airport. In Seattle, the light rail between the Airport and downtown is a fair start. But wouldn't it be great to have rail infrastructure as well developed in Seattle as in D.C.?
If only we could be as Socialist as D.C….