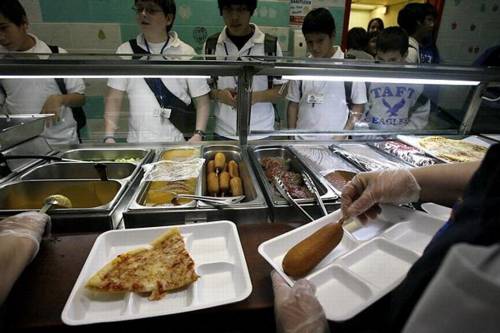 School officials in San Francisco and elsewhere are grappling with the difficulty of getting students to accept free or subsidized lunches because of the social stigma.
Or, um… maybe the kids would prefer to eat real food rather than pizza and corn dogs?
On a more serious note, my first thought in reading the article was, why the fuck are the free and reduced price lunch kids being identified as such? It doesn't work that way in Seattle elementary schools, where kids have accounts from which the cost of meals are deducted. Who's to know? So why are free and reduced price lunch kids forced to stand in a separate line in San Francisco?
Most of the separate lines came in response to a federal requirement that food of minimal nutritional value not be sold in the same place as subsidized meals, which must meet certain nutritional standards.
Gee, well, I suppose one simple solution might be to eliminate this federal requirement. Or — and I don't want to get too radical here — perhaps we shouldn't be serving school kids "food of minimal nutritional value"…? Which of course, gets back to my first comment: corn dogs? Yuch.