(Hat tip Crooks & Liars.)
And of course, it's more than just the economy on which John McCain mimics George W. Bush; you can learn more at Third Term:  The Movie.
Voters should keep McCain's role in the savings and loan debacle in mind as they're asked to once again to pick up the pieces from yet another financial crisis largely created by the free trade/deregulatory policies McCain has ideologically championed throughout his entire career.  Sure, the markets are soaring this morning, but taxpayers' spirits won't be when they hear the reasons why:
Congressional leaders said after meeting Thursday evening with Treasury Secretary Henry Paulson and Federal Reserve Chairman Ben Bernanke that as much as $1 trillion could be needed to avoid an imminent meltdown of the U.S. financial system.

[…] "We're talking hundreds of billions," Paulson told reporters. "This needs to be big enough to make a real difference and get to the heart of the problem."
A trillion dollars of taxpayer money to buy up the bad debt whose accumulation made Wall Street executives rich beyond your wildest dreams.  And for this we're supposed to reward McCain with the reins of government?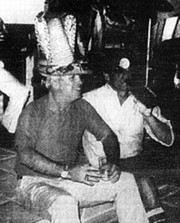 Those guys with the booze in the funny hats?  That's McCain partying with Charles Keating in the heady days before McCain pressured regulators to lay off Lincoln Savings, and the S&L's collapse subsequently cost taxpayers a couple billion dollars, and Keating a few years of his freedom on a fraud conviction.
And this is the guy we're supposed to trust to keep an eye on Wall Street?  The guy who bills himself as "the greatest free trader" and "the greatest deregulator" ever…?
A trillion dollars, folks.  $1,000,000,000,000.
Senate Banking Committee Chairman Chris Dodd (D-Conn.) said on ABC's "Good Morning America" said lawmakers were told last night "that we're literally maybe days away from a complete meltdown of our financial system, with all the implications, here at home and globally."
For all you McCain-style free traders out there, this is what we call a market failure.  Your economic philosophy—your religion—that the market always makes the most efficient allocation of resources, and that it always corrects itself, as if guided by the invisible hand of God?  Well, it's just been proven wrong.
Again.
And the impact on the rest of us, I mean beside the recession that will bring undue economic hardship on billions of people worldwide, while Wall Street executives become honored philanthropists for giving away a fraction of their ill-gotten golden parachutes?
The solution being proposed by the Bush administration is the most expensive bailout in the nation's history, sharply curtailing the ability of the next president to push for tax cuts or new spending.
Well thanks a fucking lot.  Once again a Democratic president will be forced to spend his entire eight years, shoving progressive policies like universal health care aside so that he can clean up the mess of the previous administration.
That is, assuming, voters aren't stupid enough to elect John McCain.