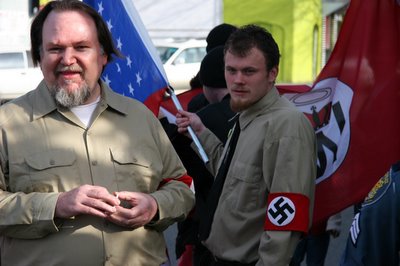 No, that's not Idaho, that's Seattle's Fremont neighborhood, where Dave Niewert of Orcinus reports on a small rally of genuine neo-Nazis that gathered yesterday across from the statue of Lenin. As Dave explains:
One reason that pseudo-fascism is so harmful is that it creates an environment that positively encourages genuine fascists.

Thus, it is no mere accident that we've been seeing increasing signs of a genuinely emboldened white-supremacist far right, with recruitment rising among disaffected young people. It's no accident that they keep getting bolder and bolder and bolder.
Yeah, sure… there's only a half dozen or so of them, but we now have Brownshirts proudly marching through the streets of Fremont, for chrissakes! Does anyone doubt that these people are emboldened by the mainstreaming of violent rhetoric from the likes of Ann Coulter? Shouldn't we be at least a little bit concerned about developments like this?
FYI, Dave has spent much of his career chronicling the Northwest militia movement and other right-wing extremists. He's a thorough journalist, a great read, and one of the pioneering members of our state's blogosphere. He's also nearing the end of his annual fund-raising week, and I encourage all my readers to drop a few bucks in his PayPal account.