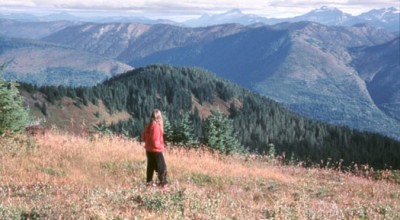 The dead tree editions of both of Seattle's dailies feature stories on yesterday's passage of legislation creating the Wild Sky Wilderness Area, here, here and a rare front page column by Joel Connelly here. Nine years in the making, the bill protecting 106,000 acres in the North Cascades was repeatedly blocked by Republicans until, well, the Republicans finally lost their ability to block the bill, along with their control of Congress.
Creation of the wilderness had been blocked in the House for years by Congressman Richard Pombo, a powerful California Republican who said some of the land wasn't pristine enough to warrant wilderness protection. But Pombo was unseated in 2006 as Democrats regained a majority in the House, and Wild Sky was revived.
For me, this raises an important point on which Joel and I agree to disagree: that in the current political environment, the most important thing environmentalists need to know about any candidate is the little "R" or "D" next to their name.
Peter Jackson, a Seattle writer, mused over the fact that 117 Republicans in the House voted against the Wild Sky legislation. He is the son of Sen. Henry Jackson, a Democrat who crafted landmark environmental legislation in negotiation with a Republican-run White House.

"We have to convince members of the party of George Bush that they're also members of the party of Theodore Roosevelt," Jackson said. "To borrow from a relative of mine, in matters of wilderness, the best politics is no politics."
Perhaps Dave Reichert really does support Wild Sky—it would have been political suicide for him to oppose it—but he sure as hell didn't do anything to move it forward when his own party was in control of the process. That's because the GOP is institutionally opposed to government mandated conservation even on government lands, as evidenced by the majority of House Republicans who still voted against this popular bill despite the obvious futility of their opposition.
Joel is an encyclopedia of Washington state political lore and wisdom, and I don't doubt his tales of bipartisan cooperation on environmental issues. But that was a different era, and as Peter Jackson points out, a different Republican Party.