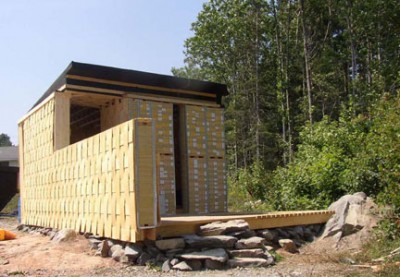 Hmm. If the Seattle City Council can't manage to pull the trigger on Mike O'Brien's very sensible proposal to create a city-run registry to allow citizens to opt-out of receiving the yellow pages — thus saving innumerable trees, not to mention $350,000 a year in recycling costs — perhaps it should consider our surfeit of unwanted phonebooks as an opportunity to solve the city's homeless problem?
The books form a ready made, insulated building module held in place with sheet metal angles normally used as drywall bead material. Once tensioned, the phone books form a stable wall into which additional layers can be easily screwed. The roof joists are also made of laminated phone books. The finished structure becomes a kind of time capsule, recording the names and numbers of community members.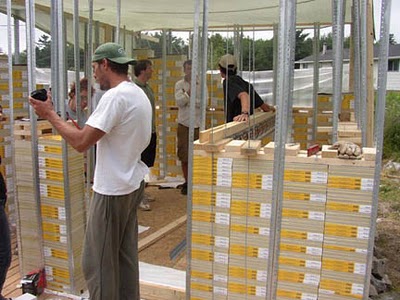 Yeah sure, it looks kinda silly, but I mean, who the fuck actually still uses a phonebook these days to, you know, actually look up phone numbers and stuff? So this makes as much sense as simply tossing 'em straight from your porch, into the recycling bin.
Or, the Council could just give us the opportunity to tell the phonebook publishers to shove off.