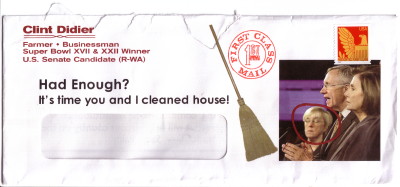 When I first saw the numbers in Publicola, that Clint Didier had raised $593,000, my initial thought was wow… that's not bad for a fringe candidate polling in the single digits. But when I read the details elsewhere, that this represents his total to-date, that he raised a not so spectacular $220,000 in the previous quarter even with Sarah Palin's endorsement, and that he only has about $100,000 cash on hand, I wasn't so impressed.
Even assuming he's in the midst of another gangbuster quarter — you know, by Didier standards — that means he'll only have a couple hundred thousand dollars or so to spend between now and the August primary… and yet the ballots drop in another couple weeks. Let's just say, when it comes to insurgent Tea Party campaigns, Didier is no Rand Paul.
And, if his goal really is to get through to the November election, shouldn't he be campaigning against fellow Republican Dino Rossi instead of Democratic incumbent Sen. Patty Murray?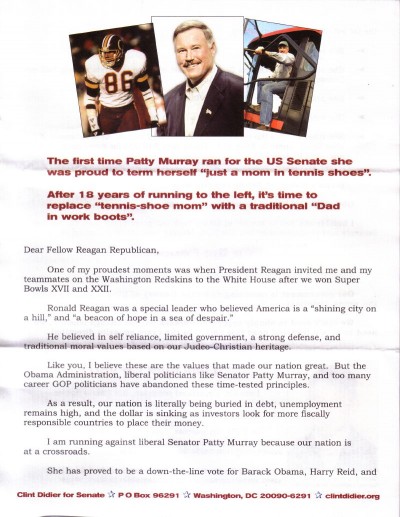 Throughout his six-page fundraising letter, apparently sent cold to a Seattle address, Didier focuses almost exclusively on attacking Sen. Murray, with only 38 words dedicated to "my Republican opponent" (who, in case you're wondering, is an "establishment" "RINO," "recruited by D.C. power brokers," who "fails to tell people where he is on the issues"). That's not much of a strategy for defeating Rossi in August, let alone raising money in Seattle.
It is, however, a good strategy for raising money from the teabagger crowd, to be spent helping establishment Republicans elect Rossi.
I'm not saying that's Didier's D.C.-P.O.-Box-based strategy. I'm just not saying it isn't.