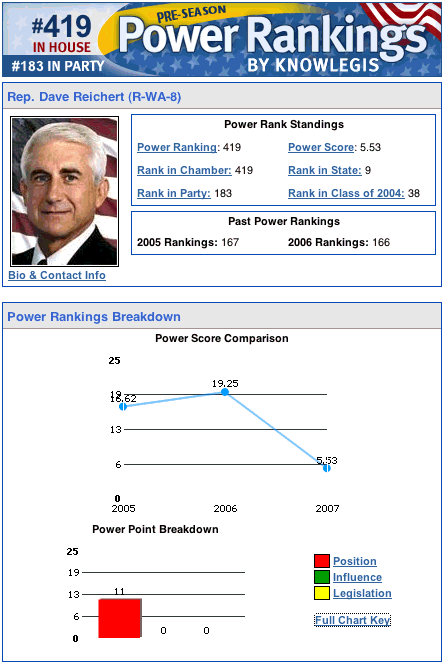 One of the arguments we repeatedly made during the late stages of the 2006 midterm election was that with Dems poised to take over the House, the region would be better served by a freshman Darcy Burner in the majority than a two-term Dave Reichert in the minority. Well that thesis was just neatly illustrated by Congress.org's annual Congressional Power Rankings, which show The Sheriff dropping from a ranking of 166 in 2006 to a pathetic 419 in 2007.
That's right, there are only handful of representatives with less power than Reichert, which if you look at his Power Point Breakdown, is mostly due to the fact that he scores giant goose-eggs for both Influence and Legislation. By comparison, his fellow WA Republican Cathy McMorris, who also arrived in Congress in the class of 2004, manages to maintain a more respectable ranking of 231.
In cynically concluding their unmitigated, lying load of bullshit endorsement of Reichert, the Seattle Times wrote:
"His goal should be to expand his influence and be a stronger voice for change."
Hey Frank… how's that working out for you?