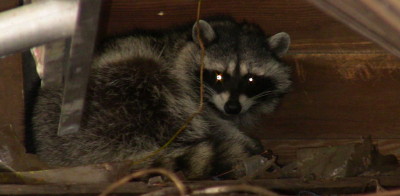 There's a raccoon in my garage. Actually, four of them: a mother and three, hairless newborn babies.
Very cute, but raccoons nonetheless, and raccoons can be nasty, and thus a threat to both our dog and our cat, not to mention my daughter and myself.
It's not much of a garage so to speak, just a rotting, ivy-covered shed with most of the roof missing, barely big enough to fit a Model T, and we don't use it for much more than storing a ladder and a few yard tools. So the raccoons aren't really in our way or anything, tucked into a corner of an aging loft I haven't had the nerve to step foot on in years. But still, they're there. For at least three days now.
I suggested calling animal control, but my daughter says no, as they'll only kill them, and she's not much into killing cute looking things.
What would you do?