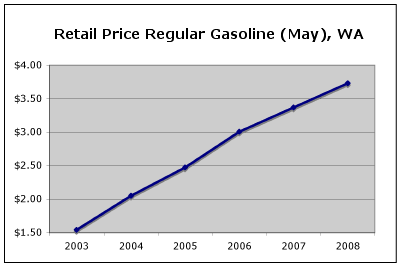 The chart above tracks the average retail price for regular gasoline in Washington state during the first week of May, from 2003 through 2008. (Source: US Dept. of Energy.)
Notice how straight that line is, how consistent the yearly increments. I don't want to get into too much technical jargon or anything, but I think that's what statisticians refer to as something called a "trend."
We can continue to debate the relative merits of roads versus rail all we want, but if this trend continues unabated, I think it reasonable to argue that the market will settle the debate for us. At $3.75 a gallon traffic has already started easing as drivers switch to transit and think twice about making unnecessary trips.
University of Washington researcher Mark Hallenbeck compared 2008 versus '06 on Seattle freeways… "Traffic volumes in general are down 1 to 2 percent."

Which Hallenbeck calls "amazing" because population and jobs grew over the same period. He says people are cutting back the most during off-peak hours suggesting high gas prices are to blame… "Where you really see changes are in the middle of the day and particularly on the weekends when people are making shopping trips or recreational trips, trips that they can change."
Huh. Now imagine the impact on consumer behavior if gasoline merely doubles in price over the next six years.
Of course, the price of gasoline may not continue to rise at a steady rate of 45 to 50 cents a gallon year over year, but with demand growing in China and India, and peak oil fast approaching, the days of cheap energy are clearly over. So why would we continue to invest in expanding freeway capacity at the same time the market is pricing increasing numbers of drivers off the roads?
Former Discovery Institute fellow Ross Anderson ridicules rail advocates for pursuing a "19th Century transportation method," an incongruous defense of modernity coming from Ye Olde Turks at Crosscut (motto: "We're afraid of change"), especially considering that the transportation model they apparently champion is one mired in the economics and thinking of the middle part of the 20th Century. It is a silly "newer = better" argument that both ignores the dotage of their own solutions and the very human habit of layering recent technological advances upon older ones. The automobile no more obsoletes the train or the trolley than the Internet does the printing press, and just as Gutenberg's invention has advanced somewhat during the half millennium since he first cast type, so too has rail technology matured during the near century since Seattleites first started tearing up tracks.
Opponents of rail like to accuse its advocates of "social engineering," but it would be pointless for us to attempt to force people out of their cars when the market is forcing this decision on its own. They can make fun of our 19th Century choo-choos all they want, but unless they can offer voters transportation alternatives that acknowledge the economic realities of the 21st Century, they better prepare themselves to get their asses kicked at the polls.