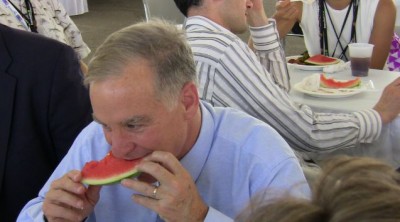 Democratic National Committee Chairman Howard Dean has a lot of fans in the Netroots, and for good reason.  It was Gov. Dean who first embraced the Internet as an effective fundraising and organizing tool (at least, in a major way by a major candidate).  It was Gov. Dean who embraced the 50-State Strategy, and put the full power of the DNC behind it.  And it was Gov. Dean who invited us bloggers to a barbecue this afternoon, where he chowed down on pulled pork, corn on the cob and yes, watermelon, as he talked freely with the local bloggers.
Thank you Gov. Dean, for the free food, and the incredible opportunity to cover the convention.  But the next time you invite a bunch of bloggers into a highly secured area, you might want to make some plans for letting us out.
The Pepsi Center is only three blocks away from the "Big Tent" where the bloggers congregate, but with all the street closures, perimeter check points and security stations, it's about a half hour trek under the blazing Denver sun.  And once we arrived at the arena, it was another 10 minute walk through the parking lot, to a cordoned off area near the railroad tracks, and under the watchful eye of several snipers atop a closed down Circle K.  I joked to a colleague as we hiked in that I hoped Gov. Dean really wanted to buy us food and booze… as opposed to rounding us bloggers up and packing us onto internment camp bound railroad cars.
It was just a joke.
Until several bloggers attempted to leave, and were turned back by security.
It turns out that the blogger barbecue was just on the other side of the security perimeter, but still walled off from the outside world.  Security personnel told us we weren't allowed to enter, when really all we wanted to do was exit.  It was a little surreal.
It took about a half hour before staff sorted things out, and we were ushered through a media security tent through a back parking lot, but the whole incident was just indicative of the incredibly tight security surrounding the entire convention.  I talked with Rep. Jim McDermott (we'll post the video later) and he says he's never seen security like this at any previous convention… and I guess that's a good thing.  But it certainly is a bit inconvenient… and at times a touch scary.