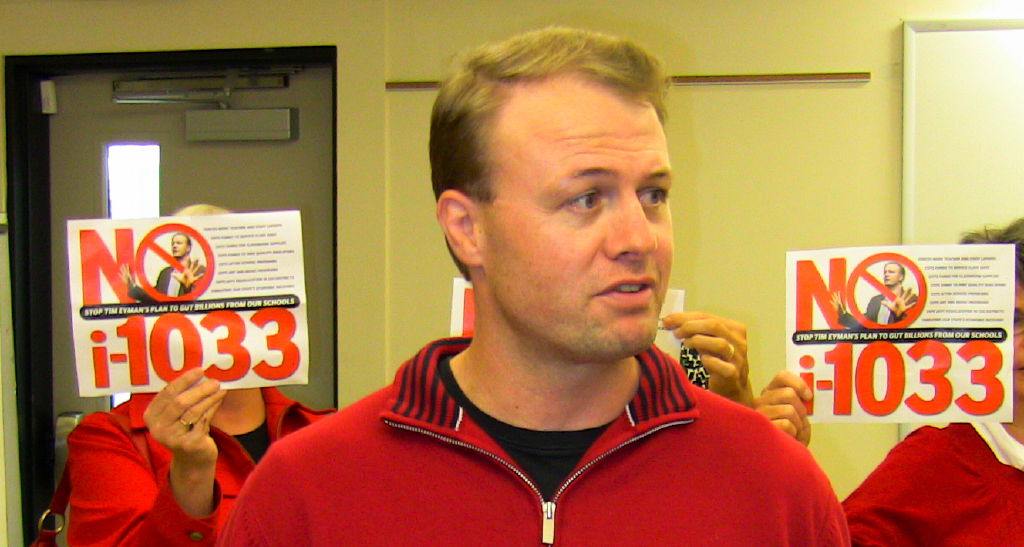 For the first time since 2006, HA namesake and shameless initiative profiteer Tim Eyman won't have an initiative on the Washington State ballot.
"We worked really hard, but our signature drive for the 2/3-For-Taxes Constitutional Amendment fell short this year," Eyman emailed supporters this morning. "We're just gonna have to work even harder next time," added Eyman. Also, next time, he might want to actually spend some money on signature gathering, instead of blowing the bulk of the $191,000 he raised through May on personal compensation and fundraising letters. (I'm not implying that the I-1325 campaign was a total scam. But, no, wait. I guess I am.)
Yawn.
Truth is, I don't write much about Timmy these days because he's ceased to be relevant. Without the late Michael Dunmire or the crazy Kemper Freeman or the money-grubbing oil industry bankrolling his campaigns, Eyman has long been a paper tiger. He has no organization, no grassroots base of support, and no fundraising list sufficient to raise the money necessary to buy enough signatures to qualify for the ballot. And so this year he didn't.
It was other people's money that made Eyman relevant. Without it, he's nothing. And even with it, he's not all that.
Over the past 15 years, Eyman has filed dozens of initiatives, qualifying 14 for the ballot. Eight Eyman initiatives have been approved by voters, but of these, all but two were ultimately ruled unconstitutional. Yes, the provisions at the heart of the unconstitutional I-695 and I-747 were reinstated by the legislature, but that's a testament more to the political cowardice of state lawmakers than to the influence of Eyman.
Indeed, Eyman has been particularly irrelevant in recent years, since being abandoned by his sugar daddies. This is actually the second petition season in a row in which Eyman has failed to qualify an initiative. Last November's losing I-517 was an initiative to the legislature that was submitted back in 2012. So it's been a long time since Eyman has run a successful signature drive.
Good riddance.