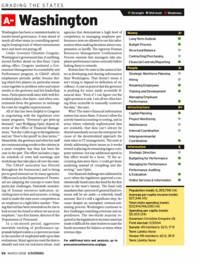 While Dino Rossi and his fellow Republicans travel the state bemoaning our hostile business climate and out-of-control government, Gov. Christine Gregoire's administration keeps racking up top grades from impartial national observers. First Forbes Magazine (hardly a bastion of liberal propaganda) lauds Washington as "the big story" of its annual Top States for Business survey, documenting our rise from 12th to 5th place under Gov. Gregoire's leadership, and now the Pew Center on the States grades Washington an A- for performance in its 2008 State Management Report Card… the top score awarded this year, shared by only Virginia and Utah. (Hat tip Andrew.)
How are those campaign themes working out for you, Dino?
Washington receives an A- or higher in three of four categories; only in Infrastructure does our state drop to a B+, and that less than stellar mark is largely due to a decades long deficit in public investment that the Gregoire administration is only beginning to turn around. And like the Forbes survey, the Pew report not only shows top performance, but progress under the current administration, with Washington improving from a B+ the last time the survey was conducted back in 2005:
Washington has been a consistent leader in results-based governance. It was ahead of nearly all other states in controlling spending by keeping track of where investments were and were not paying off. Under Governor Christine Gregoire, Washington's government has, if anything, moved further ahead on this front.
Of course, Rossi's dire warnings of administrative mismanagement and looming crisis are just the usual political bluster; after three years of ducking questions on nearly every contentious issue that has confronted our state, Rossi has little option but to attack Gov. Gregoire's leadership. But as empty and misleading as the Republicans' anti-Gregoire rhetoric has been, we can't assume it won't ultimately resonate with voters, for I'm guessing the governor's top grades likely come as a surprise even to some of her most ardent supporters.
No doubt a lot of the blame for this public perception gap falls on the governor herself, for as good an administrator and negotiator as she's proven to be, she's not always been the best communicator. (Recent communications staff changes look awfully promising, but Gov. Gregoire could still learn some lessons in self-promotion from Attorney General Rob McKenna.) Whenever I have the opportunity to speak to top Democratic elected and party officials I always tell them that if the public doesn't understand their accomplishments — if voters don't appreciate the value they're getting for their tax dollars — it's because these officials are doing a crappy job of telling their story. 99 percent of political life is exceedingly dull, and the bureaucratic process is duller still, so crafting a narrative that reaches beyond the occasional crisis or partisan food fight yet still manages to shape the public debate, requires both creativity and relentlessness on the part of public officials and their staff.
Yet I couldn't touch on this topic without also blaming our local press, for it is, in the end, their job to inform and educate the public on what is really happening in Olympia and the impact it has on families throughout the state, an assignment they routinely fail when it comes to reporting on our government's successes. Oh, I'm not blaming the rank and file political reporters; I think they generally do a pretty good job with what limited resources they have… and it's not their fault that "State Government Program Operates Smoothly" doesn't exactly make for a compelling headline. Their job is to tell a story too, and crisis, corruption and mismanagement, when it occurs, makes for a helluva a better read than a tedious tale of government doing what, in fact, it is supposed to do.
No, I blame the editorial boards, for not only failing to place our government's flaws in their proper context, but for occasionally, maliciously doing the exact opposite. Of course the op/ed pages are the place for publishers and editors to express their opinions, but the gatekeepers of the Fourth Estate have public obligations that should run deeper than those of a mere blogger. As purveyors of a journalistic paradigm that aspires toward impartiality and objectivity, editorial writers and columnists have a unique responsibility to reassert a sense of proportion unavoidably lost in the daily rush of headlines. I don't expect newspapers to attempt to balance the bad news with good news — that would be pointless and boring — but if they are to strenuously avoid editorializing within their news reporting, then they have an obligation to balance the news on their editorial pages by providing a little context. At least, they should have this obligation if they expect to be taken seriously.
Take for example Kate Riley's column today in the Seattle Times, "When it comes to open government, a sledgehammer is sorely needed", a dire headline if there ever was one. According to Riley our public disclosure laws have "utterly eroded," and much of the blame falls on Gov. Gregoire who has allegedly "slapped open-government advocates in the face." Uh-huh. And what does the Pew report say on this subject in comparing Washington to the 49 other states?
Bottom line: No state in the nation is better at developing and sharing information than Washington.
I don't disagree with Riley that the Legislature needs to act to address the potentially frivolous use of attorney-client privilege as an end-run around our public disclosure laws (though her column might have been more useful had it come before this session's legislative cut-offs,) but the tone and tenor of her piece suggest a system that has fallen into complete disrepair at the hands of a secretive governor. It is, through its utter lack of context, a mean spirited and misleading column, perhaps appropriate to the pages of a partisan blog, but unworthy of the weight of credibility assumed the pages of our state's largest newspaper. The Times will run few articles trumpeting the everyday successes of our public disclosure laws, and understandably so. But the least they can do when criticizing our government's failures on their op/ed page is to present those failures within the proper context of its established record of success.
That the majority of Washingtonians don't understand how well managed our state government is compared to other states is a failure of our local press. But grading on a national curve, I guess I have to bump their report card up to a C.