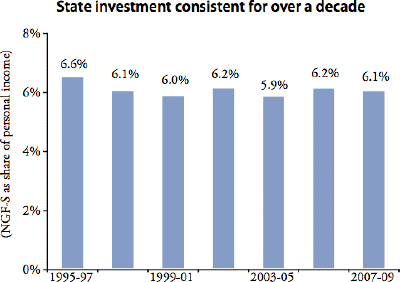 The Dino Rossi campaign will no doubt be crowing tomorrow morning about the state's revised revenue forecast, which now predicts a $3.2 billion budget shortfall for the 2009-2011 biennium, but it should be remembered that the projected deficit is a revenue problem not a spending one, stemming from a long-term structural deficit and a weakening economy.
State spending as a percentage of the total economy has in fact remained flat for much of the past decade, while our antiquated tax structure has continued to rely on an ever shrinking portion of our economy.  Our media and political elite have thus far studiously avoided and serious discussion about tax restructuring—the Democrats out of fear of a voter backlash, and the Republicans secure in the knowledge that to do nothing virtually assures their vision of a dramatically smaller government by default.
No doubt the Governor and the Legislature face tough short term choices during the next session, as they do during every economic downturn.  But if we want to solve our long-term structural deficit while maintaining the quality of life Washingtonians have come to expect, then we need to rely on more than mere tough talk and a rainy day fund.  We need to start talking about an income tax, or some other broad based tax designed to fit the realities of our twenty-first century economy.